---
The region encompassing the Middle East and North Africa (MENA) contains the world's largest share of oil and gas reserves, as well as production.
The blessing comes with challenges; not only has MENA been disproportionately beset by the huge loss of demand due to COVID-19, it has also suffered significant self-induced wounds as well as geopolitical machinations involving a wide range of international players. How each country is coping with the myriad of problems varies widely.
UAE
In June 2020, Abu Dhabi National Oil Company (ADNOC) announced a deal that saw the acquisition of a minority stake in ADNOC Gas Pipeline Assets, a new subsidiary. The New York-based infrastructure investment fund Global Infrastructure Partners and five other investors acquired a 49% interest for US$20.7 billion. The buyers get 20 year lease-rights to 38 pipelines, while ADNOC maintains ownership.
"The innovative transaction structure allows ADNOC to tap new pools of global institutional investment capital, whilst at the same time maintaining full operating control over the assets included as part of the investment," the company noted. In 2019, ADNOC also agreed to a similar deal with KKR and BlackRock, investing US$4 billion in Abu Dhabi's oil pipelines.
In early 2020, ADNOC announced an immense new gas discovery on the border of Dubai and Abu Dhabi. The 80 trillion ft3 of gas is located in a 5000 km2 block. Recent discoveries have boosted Abu Dhabi's official reserves to 105 billion bbl of oil and 273 trillion ft3 of conventional gas, and 160 trillion ft3 of unconventional gas.
Saudi Arabia
In 2019, Saudi Aramco announced that it would expand its major East-West crude pipeline. The 5 million bpd Petroline network runs from the Persian Gulf to the Red Sea port of Yanbu, but normally operates at 40% capacity since the majority of its exports go to Asia via the closer Persian Gulf. The increase in hostilities in the Strait of Hormuz have obliged Saudi Aramco to de-risk the threat of shipping interruptions by adding 2 million bpd of capacity to Petroline, for a total of 7 million bpd. While the move will only partially reduce vulnerability (the line was damaged by drones in 2019, and the Red Sea's southern passage has been the scene of several tanker attacks), it provides a viable alternative should Iran or its proxies close the Strait.
Bahrain
Bahrain, a tiny island kingdom in the Persian Gulf, has been jointly producing 200 000 bpd with Saudi Arabia for several decades. Conventional reserves are dwindling to 125 million bbl, however, leaving the country with just seven years of production. The country has a wealth of unconventional resources, however; approximately 80 billion bbl of tight oil in place and 20 trillion ft3 of gas. Billions of dollars will be needed to develop the resource, and the government is seeking international investment as well as making overtures regarding divestment of pipelines and plant infrastructure. The Bahrain LNG import facility, with a capacity of 800 million ft3/d, is one asset potentially on the auction block.
Kuwait
The joint operation of fields in the neutral zone, a disputed territory between Saudi Arabia and Kuwait, is once again in flux. The region had pumped approximately 500 000 bpd until 2015, when worsening bilateral relations resulted in suspension of production. Recent negotiations restored partial output, but the two countries have now suspended operations in the Al-Khafji field, which was pumping 300 000 bpd.
Oman
Oman, with daily production of 970 000 bpd and 5.4 billion bbl of reserves, has a production to reserves ratio of 15 years. While recent offshore exploration has uncovered new reserves, the non-OPEC nation is eyeing massive gas reserves as a potential future solution to its pending revenue woes. The country has some 23.5 trillion ft3 of conventional gas, and has introduced contracts that favour the development of non-associated gas fields. Total and Shell have signed several gas-deposit deals; output could be directed either to the US$6.5 billion Liwa Plastic Complex or to LNG exports.
The COVID crisis has dealt a blow to Oman's plans for renewables, however. Petroleum Development Oman and partner Shell recently closed down GlassPoint Solar, a project designed to use solar power instead of natural gas to produce steam for EOR wells. The plan was to build a US$600 million solar farm at the Amal field in southern Oman, enough to generate 1 GW of electricity.
To continue reading this article, which goes on to explore similar issues in Qatar, Iran, Iraq and Algeria, as well as addressing the main issues and looking at future prospects, click here.
Read the article online at: https://www.worldpipelines.com/special-reports/26112020/nowhere-to-run/
You might also like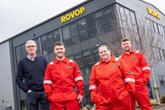 ROVOP focused on producing the 'next generation' of ROV pilots, adds three new trainees to its training programme.