The latest pipeline news
TransCanada has received a presidential permit for its Keystone XL pipeline.
Analysts at Sanford C. Bernstein and Jefferies Group told Bloomberg that PetroChina may 'spinoff' its natural gas and crude oil pipeline business.
---
The US State Department is expected to approve the Keystone XL pipeline before next week.
---
---
Upcoming pipelines events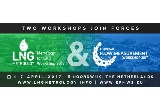 04 Apr 2017 - 05 Apr 2017
Netherlands
04 Apr 2017 - 06 Apr 2017
United States
04 Apr 2017 - 07 Apr 2017
Japan