The latest pipeline news
US President signs executive order to eliminate and streamline permitting regulations.
Carbon Natural Gas Company announces acquisition of natural gas producing properties and midstream assets.
---
Alta Mesa is set to merge with Silver Run Acquisition Corporation II and Kingfisher Midstream, to form a combined company valued at approximately US$3.8 billion.
---
---
Upcoming pipelines events
05 Sep 2017 - 08 Sep 2017
United Kingdom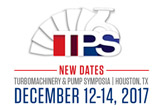 12 Sep 2017 - 14 Sep 2017
United States
13 Sep 2017 - 14 Sep 2017
United States