---
The COVID-19 pandemic had immediate and far-reaching impacts on global crude markets in 2020. Dylan White, Genscape, and John Coleman and Shelby Poncik, Wood Mackenzie, explore the impact of the COVID-19 pandemic on the Canada-to-US supply chain.
Demand loss amid quarantine efforts led to one of the largest oversupplies in history. Storage inventories rapidly climbed toward tank tops at key hubs in North America, including Cushing, OK. Producers reduced supply as crude prices plummeted, balancing out regional markets to varying degrees. As these drastic shifts played out in Western Canada, it changed market conditions that had defined the supply chain for years.
Since late 2017, a bottleneck prohibited Western Canadian crude barrels from freely reaching export markets. Growing production surpassed outbound pipeline capacity, suppressing crude prices and pushing shippers to move barrels by crude-by-rail. Then, COVID-19 led to massive decreases in both supply and demand in 2H20, temporarily alleviating constrained pipeline space and eliminating the need for rail shipments. Refinery demand rebounded in late 2Q20 as quarantine efforts eased. The Canadian bottleneck showed signs of returning with it.
This article will explore the impacts of the COVID-19 on the Canadian supply chain, as reported in Genscape real-time data. It will also provide an outlook on Canadian markets as demand rebounds in 3Q20, as well as a long-term forecast for when transportation capacity inevitably becomes constrained again, using Wood Mackenzie's forward-looking analysis.
Room to spare
Pipelines out of Western Canada operated at or near capacity between late 2017 and 1Q20, according to Genscape's Canadian Pipeline Service. Legislative hurdles blocked new pipeline construction, which would help accommodate growing supply from the oil sands. COVID-19 brought an unexpected reprieve from the bottleneck, as cuts to refinery runs and production reduced flows on constrained trunklines from Canada to the US.
Canada-to-US pipeline flows collectively operated below nameplate capacity for every week in 2Q20, with utilisation averaging 94%. This was in stark contrast to 1Q20, when pipelines operated above nameplate capacity for every week, with an average utilisation of 102%, according to Genscape.
Enbridge announced no apportionment on the 2.665 million bpd Edmonton, AB, to Superior, WI, Mainline system in May and June, after being apportioned every month since April 2018. In other words, the company offered up additional space on Mainline following two years of restricting shipper's volumes as demand exceeded capacity.
Pipeline volumes showed signs of rebounding to pre-pandemic levels in June, as quarantine efforts eased and US refinery demand bounced back. Weekly Canada-to-US pipeline utilisation averaged 97% in mid-June, the highest level since early April, according to Genscape. Enbridge also announced marginal apportionment for heavy oil on the Mainline system in July.
Enbridge's 540 000 bpd Superior, WI, to Sarnia, ON, Line 5 pipeline shut in June after a support issue was discovered in the segment that crosses the Straits of Mackinac. Line 5 sources barrels from Western Canada via the Mainline system. The disruption in downstream connectivity stunted the rebound in pipeline flows out of Canada in late June. As of early July, Line 5 restarted with limited operations, but the future of the line was uncertain. With all Line 5 pipeline alternatives full, any prolonged outage could affect flows out of Canada going forward.
Crude-by-rail shipments in Western Canada surged in recent years, as shippers sought alternative transportation methods when pipeline space was unavailable. However, rail volumes plummeted during the pandemic amid narrow crude differentials and sufficient pipeline space. Canadian rail loadings averaged 71 000 bpd in 2Q20, down from 330 000 bpd in 1Q20. Monthly volumes averaged 25 000 bpd in June, according to Genscape's PetroRail Report.
To read the rest of this article, click here.
Read the article online at: https://www.worldpipelines.com/special-reports/23112020/break-from-the-bottleneck/
You might also like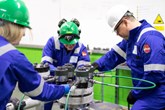 3t EnerMech named regional winner at top engineering awards for the second year in a row.