The World Pipelines June and World Pipelines Extreme issues are now available
Published by Sarah Smith, Assistant Editor
World Pipelines,
---
The World Pipelines June issue and the World Pipelines Extreme supplement are now available online. Both issues are packed with exclusive technical case studies, pipeline projects and more.
The June issue of World Pipelines includes a regional report on Russia and technical articles on pipeline coatings and welding. The cover story details the growth of field joint coating equipment and two articles focus on pipeline flow: one looks at sampling of fluid products and the other at flow model calculations.
This issue features some fantastic technical articles from Pipeline Induction Heat, Emerson, Vermeer Corporation, Vacuworx, Applied Flow Technology and many more, as well as a Regional Report on Russia by Dr Hooman Peimani, which considers the current midstream market in the country, and its struggle, along with the international economy, in the face of falling oil and gas prices.
View the World Pipelines June Issue »
The World Pipeline Extreme supplement includes articles on pipeline equipment, monitoring and security, safety, pigging challenges and inspection, from the likes of LCS Cable Cranes, ROSEN Group, T.D. Williamson, SCAIP S.p.A., Platipus Anchors Limited, Saft Batteries, Jemena and many more.
This issue also features a Guest Comment by Dr Oleg Aksyutin, Deputy Chairman of the Management Committee of Gazprom and CEO of South Stream Transport BV, Russia.
View the World Pipelines Extreme Issue »
Read the article online at: https://www.worldpipelines.com/special-reports/05062020/the-world-pipelines-june-and-world-pipelines-extreme-issues-are-now-available/
You might also like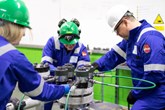 3t EnerMech named regional winner at top engineering awards for the second year in a row.