---
Enverus Intelligence Research, a subsidiary of Enverus, the leading global energy data analytics and SaaS technology company, has released its latest PetroLogic report, The Fog of War. In it, EIR assesses the outlook for oil supply amid sanctions on Russian energy and what that could mean for prices in the near term.
"With oil prices persistently high since Russia's late February invasion of Ukraine, we have pared by more than 50% of our expectations for demand growth this year. We now expect global oil demand to grow about 1.5 million bbl/d y/y in 2022, subject to further revision as GDP forecasts are adjusted lower," said Bill Farren-Price, Lead Report Author and Director of Enverus Intelligence Research. "Faced with technical challenges and potential reputational damage, European buyers are avoiding Russian cargoes, which were down by ~1.5 million bbl/d in early March."
Key takeaways from the report:
EIR now project stock draws through 2022 until 4Q22, which is mostly in balance as demand growth eases, reflecting lower supply and easing demand as higher prices bite. Enverus' Brent price forecast is now anchored above US$100/bbl, reflecting tighter balances on the back of the Ukraine war.
The March surge in Brent prices towards US$140 brings a focus onto the risks to oil demand. EIR has halved its forecast for oil demand growth in 2022 and GDP downgrades will erode that view further in the coming month.
Read the latest issue of World Pipelines magazine for pipeline news, project stories, industry insight and technical articles.
World Pipelines' April 2022 issue
The April issue includes a keynote article on regulations and compliance, along with technical articles on horizontal directional drilling, integrity systems and pipeline mapping.
Read the article online at: https://www.worldpipelines.com/special-reports/05042022/global-oil-supply-demand-and-prices-become-clear/
You might also like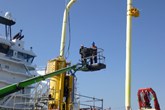 AIS awarded another custom coating project offshore Brazil.