---
Just as the pandemic appears to be ending and hopes of a return to normality grow, a new shock hit us last Thursday. The ever-brewing threat of military conflict in Eastern Europe reached a crescendo as Russian troops and tanks entered Ukraine. The tragedy of the situation cannot be underestimated, and other implications of the conflict pale compared to the potential human cost on both sides. Rystad's thoughts go out to the people of Ukraine, but also to the Russian population that will suffer from this reckless act.
Full-scale military conflict between Russia and The West is unlikely, but a deep economic war is almost inevitable. Russia cannot win an outright economic war, but it does have a major weapon to wield – oil and gas exports. Demand for oil and gas in The West is only rising, and a global energy crisis is likely to unfold.
Russia's actions took international commodity markets off guard, evidenced by the large price fluctuations witnessed today. Already strained markets are becoming further stretched as significant oil and gas volumes are now at risk.
The escalation immediately jeopardizes up to 1 million bpd of crude supplies that transit through Ukraine and the Black Sea, but the long-term disruptions could be far more significant. Rystad Energy's simulations show that oil prices could surge to around US$130/bbl, with consumers feeling the squeeze at the gas pump and in their power bills. The reality is that significantly higher prices are on the horizon in Europe and overseas.
A complete halt to gas exports from Russia is highly unlikely, but gas piped through Ukraine – which represents 8% of European supply – is very much at risk. Russian gas accounts for over 30% of Europe's demand, and other potential supply sources are inadequately prepared to bridge the gap. On the other side, Russian gas exports bring in more than US$300 million for the Kremlin each day – revenues they cannot afford to lose. Germany's suspension of the Nord Stream 2 pipeline further complicates matters and increases the pressure on the continent to look for other sources to replace those volumes.
Read the article online at: https://www.worldpipelines.com/special-reports/01032022/rystad-energys-extraordinary-note-on-the-conflict-in-ukraine/
You might also like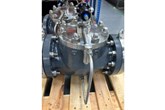 Oxford Flow expands its product range and grows market potential with new high- and low-pressure pilots.