---
FERC is exploring the issue of oil pipeline capacity allocation problems that can arise when irregular events or factors, such as the COVID-19 pandemic, affect demand for oil pipeline capacity. Specifically, the Commission is responding to concerns regarding the effects of the COVID-19 pandemic on jet fuel shippers' ability to access pipeline capacity for supplying airports. The Commission is seeking comments on what, if anything, the Commission should consider in addressing those issues.
In today's notice of inquiry (NOI), the Commission is asking the public to comment on whether to consider changes to existing policies, such as relying on historical use when allocating pro-rationed oil pipeline capacity, given the impact anomalous conditions can have on previous pipeline capacity demand. The Commission is also seeking comment on how the COVID-19 pandemic has affected the availability of pipeline capacity for transporting jet fuel.
Anomalous conditions can significantly and suddenly increase shipper nominations that exceed available pipeline capacity. Likewise, anomalous conditions can temporarily reduce some shippers' usage of the pipeline system, which in turn could affect their future allocations of pipeline capacity.
Initial comments on the NOI are due 60 days after publication in the Federal Register, with reply comments due 90 after publication in the Federal Register.
Read the article online at: https://www.worldpipelines.com/regulations-and-standards/01032022/ferc-seeks-comment-on-oil-pipeline-capacity-allocation-practices/
You might also like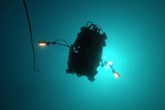 Voyis and Deep Trekker, have joined forces to achieve the successful fusion of Voyis' Discovery Camera with Deep Trekker's REVOLUTION ROV.