---
Canadian Prime Minister, Justin Trudeau, has been investing heavily in marine protection and greener infrastructure to ensure that Canadian energy is transported in a safe and environmentally-friendly manner.
Part one of this overview of focuses on the three decisions made over three key pipeline projects.
November decisions
On 30 November, Trudeau and the Canadian government reached a decision on three key pipeline proposals. It was reported that the Prime Minister sought to balance environmental protection with the need to expand markets for Canada's resources.
As expected, the responses have been varied.
"There's an international demand for Canadian oil, and this pipeline is an important part of getting our product to market," said Perrin Beatty, President and CEO of the Canadian Chamber of Commerce, in a press release.
Meanwhile, The Guardian highlighted: "Greenpeace said the decision would lead to 'Standing Rock-like protests' in Canada."
On 1 December, the Huu-ay-aht First Nation declared its support for the Trudeau government's leadership on the economy, environment and long-term reconciliation with First Nations.
"These decisions are never easy," said Tayii Ha'wilth Tliishin (Head Hereditary Chief Derek Peters). "In our view, the Trudeau government is on its way to successfully achieving principled resource development and effective environmental stewardship in a manner consistent with our three core traditional values."
Trans Mountain
Kinder Morgan's CAN$6.8 billion (US$5.06 billion) Trans Mountain pipeline expansion project won approval from Trudeau and his government. The project's approval is subject to 157 conditions relating to indigenous and environmental issues. It is also subject to regulatory approvals.
The pipeline runs from the Edmonton area to Burnaby. The now approved project will almost triple the existing pipeline's capacity, and is expected to generate thousands of jobs, and over a billion dollars for construction spending alone.
"This is a defining moment for our project and Canada's energy industry," said Ian Anderson, President, Kinder Morgan Canada. "This decision follows many years of engagement and the presentation of the very best scientific, technical and economic information. We are excited to move forward and get this project built, for the benefit of our customers, communities and all Canadians."
While the Trans Mountain project has been approved, some environmental groups and First Nations have vowed to keep fighting the project.
Line 3
Enbridge's plans to replace the Canadian segments of its ageing 1967 Line 3 pipeline have been approved by the Canadian government. It's Line 3 runs between Alberta and Wisconsin and the approval is subject to 37 binding conditions that will address potential Indigenous, socio-economic and environmental points.
This CAN$4.8 billion project will replace 1067 km of existing pipeline between Hardisty (Alberta) and Gretna (Manitoba) to enhance its safety and integrity. The project will generate significant economic benefits, including CAN$514.7 million in federal and provincial government revenues and 7000 new jobs during construction. It also provides a vital link to the North American refinery market for Canadian oil.
The National Energy Board (NEB) decided to allow Enbridge to replace an ageing pipeline in April 2016. In making its decision to approve both the Line 3 replacement project and the Trans Mountain expansion project, the Government took a wide variety of information and data into consideration, including the NEB's recommendation report, Environment and Climate Change Canada's assessment of upstream greenhouse gas emissions, the views of Canadians and enhanced consultations with Indigenous peoples.
On 26 September 2016, two environmental groups filed a motion with the Public Utilities Commission due to their worries that Enbridge's Line 3 plans were inconsistent. While Enbridge claims that the project is a replacement project, the groups noted that that a proposed settlement between Enbridge and the US Department of Justice over a major 2010 oil spill in Michigan allowed the company to reuse the original Line 3 after it builds the replacement line.
Northern Gateway
Of the three proposed plans, Enbridge's controversial Northern Gateway project was the only one to be rejected by the Canadian government, citing excessive risks.
While supported by Canadian oilsands producers, Enbridge's yearslong attempt to pursue its plans for the Northern Gateway pipeline sparked extensive protests and faced fierce opposition from aboriginal and environmental groups across North America. Moreover, Trudeau himself has long opposed the project, which would have carried 525 000 bpd of crude oil along 730 miles.
The government directed the NEB to dismiss Enbridge's Northern Gateway pipeline project application after it determined that the project is not in the public interest. It would result in crude oil tankers transiting through the sensitive ecosystem of the Douglas Channel, which is part of the Great Bear Rainforest.
In reaching its decision on the Northern Gateway project, the government considered the joint review panel report, the views of Indigenous communities and of other Canadians as represented to the joint review panel, as well as the decision of the Federal Court of Appeal.
Read the article online at: https://www.worldpipelines.com/business-news/23122016/canada-pipeline-recap-part-1/
You might also like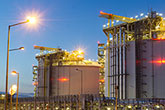 Prices pick up slightly but continue to remain deflated worldwide; prices did not respond as they did in 2022 despite disruption of gas pipeline supplies in Europe by multiple maintenance works.