---
Rystad Energy's oil market comment from their Senior Oil Market Analyst Louise Dickson.
The UAE announcement of 800 000 bpd production ramp up led to price falls yesterday, but price recovery likely unless OPEC+ matches increase.
The UAE announcement of ramping up its oil production by 800 000 bpd triggered a sell-off as it was interpreted as a signal that potentially other OPEC members with significant spare capacity, such as Saudi Arabia and Kuwait, would consider this option and also open the floodgates. There was no such coordinated action, yet oil kept trading down, likely due to many stop orders placed at US$120/bbl, a threshold once breached on a downward trajectory was an unpalpable hold for the short-term bull market opportunists.
Indeed, core Middle East OPEC countries Saudi Arabia, Iraq, the UAE, and Kuwait are the only bloc that could counterweight the supply risk from Russia. Together, the four countries have about 4 million bpd in spare capacity, that is, oil production that can be brought onto the market within a 3 - 6 month period. And most of these countries have vast onshore storage capabilities that can be tapped, meaning that a few million barrels could be nominated for exports in weeks, if not days. However, the unilateral increase by the UAE without any Saudi participation wouldn't be nearly enough to cover the perceived, or real, market shortage, so until there is a consensus from OPEC+, prices should regain some, if not all, of the lost territory.
Oil prices yesterday were slightly elevated as the Russian and Ukrainian foreign minister met in Turkey, the first meeting between high level officials since the invasion began 3 weeks ago. Bullish signals continue to come out of China, whose latest order for refineries to halt April fuel exports comes amid high crude prices, a maneuver that could be copied by other big importers in the face of unprecedented energy inflation.
Read the article online at: https://www.worldpipelines.com/business-news/11032022/oil-prices-sharpest-decline-in-2-years-but-recovery-likely/
You might also like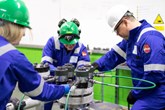 3t EnerMech named regional winner at top engineering awards for the second year in a row.