---
War has come to the heartland of Europe, and if the Ukraine conflict draws in the might of the Russian army and other interested and well-equipped forces, unconstrained upside risk to regional geopolitics and oil prices are highly likely in the near term. In the longer term, however, the demand impact could be negative, not only for the Russian economy but other regional economies.
Oil prices are soaring with no end in sight as the news of Russia's full-scale military incursion of Ukraine, immediately putting at risk up to 1 million bpd of Russian crude oil exports transiting through Ukraine and the Black Sea. The Brent benchmark smashed the US$100 mark on 24 February, and prices are only set to climb further on low storage inventories and export disruptions. Prices could approach US$130/bbl by June if the Ukrainian conflict disrupts Russian crude flows, but that estimate could soar higher if additional disruptions materialise.
As the risk of military conflict in the region has developed in recent months, the threat to oil prices has grown gradually too, and now the shockwaves of Russia's incursion are reverberating around the crude trading floor. The price ceiling for crude could rise further in the coming days if supplies from northern seaports or even Asia-bound crude barrels face imminent disruption.
A swift takeover of Ukraine by Russia and a muted response from the West could actually cap the price volatility to today's high of US$105/bbl. The short-term stoking of oil prices will have a wide range of impacts on the oil market – significant disruptions or oil trade flows will be inevitable, as Europe currently sources 25% of its oil imports from Russia, and its port terminals and infrastructure are not equipped for a sudden pivot from piped crude and oil products to port deliveries. The price spike could also move OPEC+ to shore up supplies, perhaps to be announced at its 2 March meeting, or expedite an Iranian deal to bring supply-side relief.
Read the article online at: https://www.worldpipelines.com/business-news/01032022/rystad-energys-daily-oil-market-comment/
You might also like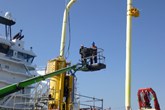 AIS awarded another custom coating project offshore Brazil.