Gazprom and Overgas reach a final settlement in the Business and Property Courts, London.
Technical operatorship of the South Caucasus pipeline transfers from BP to SOCAR.
The company has completed its US$48 million contract for automation systems and cloud engineering software-as-a-service for the Shah Deniz 2 project in Azerbaijan.
Azerbaijan to become a more significant supplier of natural gas to Southern Europe.
The Caspian Pipeline Consortium expects to pump less CPC Blend via its pipeline than originally expected.
Caspian Sea breakthrough treaty set to boost oil and pipeline plans.
The joint venture will target the Caspian oil and gas drilling and engineering market.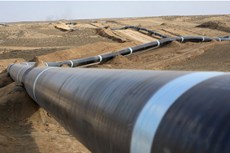 The project, which is the starting point for the Southern Gas Corridor series of pipelines, has started on time.
The pipeline will compete with the Russian-built TurkStream pipeline for the supply of gas to Turkey, as well to southern Europe in the near future.
PENETRON technology used to maximise the durability of the concrete elements of the ongoing pipeline upgrades.
---