---
World Pipelines' Senior Editor, Elizabeth Corner, talks to Mark Stephens, Senior Engineering Consultant and the Chief Engineer at C-FER Technologies, to discuss C-FER's recent article in World Pipelines.
Mark Stephens, Senior Engineering Consultant and the Chief Engineer at C-FER Technologies. In his role as Chief Engineer, Mark provides direction to C-FER's professional engineers and is responsible for C-FER's professional practice management programme. Mark has over 30 years of experience in Structural analysis, Large-scale testing, and Engineering system risk and reliability.
C-FER is a Canadian company, based in Alberta, that carries out collaborative research and technology development and provides engineering consulting services, primarily to the upstream and midstream sectors of the oil and gas industry.
This spotlight session reviews some of the topics and themes raised in C-FER's recent article for World Pipelines, entitled 'Revisiting the risk', written by staff engineer, Tyler Paxman and Mark Stephens.
The article, published in the Extreme 2021 supplement to World Pipelines, describes using historical data to predict liquid pipeline spill volumes. It suggests that the ability to predict the potential volume of a spill due to a hazardous liquid release is an important consideration in assessing the risks associated with pipeline failure, and in preparing for and mitigating any detrimental effects. By analysing historical data from PHMSA, C-FER Technologies developed models that can be used to make informed predictions about future spills.
To read C-FER's article in full, simply click here, and to receive a regular copy of World Pipelines, register for free here.
And if you want to find out more about the services offered by C-FER Technologies, visit www.cfertech.com
Read the article online at: https://www.worldpipelines.com/spotlight-interviews/08062021/world-pipelines-spotlight-with-c-fer-technologies/
You might also like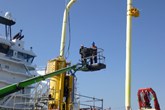 AIS awarded another custom coating project offshore Brazil.