---
At the start of 1Q22, global oil and gas industry contract activity was stifled due to the Russia-Ukraine conflict. However, in the second half of the quarter a minor increase in the number of contracts was reported. Unfortunately, the industry was unable to maintain its position in terms of contract value compared to the previous quarter, according to GlobalData, a leading data and analytics company.
Pritam Kad, Oil & Gas Analyst at GlobalData, comments: "Contracts in the oil and gas industry could only float due to the sheer uncertainties surrounding it, including the ongoing Russia-Ukraine crisis, rising prices, and project cost escalation. However, Saudi Aramco was able to keep the momentum going with Zuluf oilfield expansion contracts during the quarter."
GlobalData's latest report, 'Q1 2022 Global Oil & Gas Industry Contracts Review', reveals that the number of contracts saw a minor increase from 1452 in 4Q21 to 1546 in 1Q22. However, overall contract value decreased significantly from US$61.16 billion in 4Q21 to US$36.93 billion in 1Q22.
In terms of single scopes, operation and maintenance (O&M) represented 56% of the total contracts in 4Q21, followed by procurement with 16%, and contracts with multiple scopes, such as construction, design and engineering, installation, procurement, and O&M accounted for 14%.
A notable contract during the quarter was Saudi Aramco's award of multiple contracts for the expansion of the Zuluf oilfield in Saudi Arabia, including EPC work to JGC Holdings ranging between US$2 and US$2.5 billion for two sets of oil and gas separation units, gas compression units, and onshore processing facilities such as crude oil processing units, as well as EPC for injection water pumps, water-oil separation units, thermal oil systems, electrical and non-electrical facilities.
Another notable contract would be those awarded to the National Petroleum Construction Company (NPCC) for construction work associated with the fourth and fifth Zuluf packages, where the fourth package CRPO 82 includes at least 12 oil-handling wellhead topsides, two oil tie-in platforms, and one electrical distribution platform, and the fifth package CRPO 83 includes up to 12 additional oil-handling wellhead topsides, two oil tie-in platforms, as well as infield pipelines and cables.
Read the article online at: https://www.worldpipelines.com/special-reports/17052022/global-oil-and-gas-contracts-stifled-in-1q22/
You might also like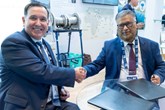 The partnership is to bring critical flange isolation offerings for the Kingdom of Saudi Arabia.