---
In a region which has shown both extensive investment and increased instability over the past few years, MEA merits a significant degree of technically minded and industry-focused coverage.
While DMEA details mid and downstream company activity throughout the Middle East and Africa, it also contains information of tender announcements and awards, allowing customers to be kept aware of what their competitors are up to as well as informing them of new opportunities.
Sample table of contents
Commentary.
Iran re-routes Oman Gas Pipeline to avoid US intervention.
UAE in downstream flux.
QP plots global expansion.
Mozambique on hold.
Refining.
Samir bidding opens, 20 offers received.
Nigeria moderates tone on illegal refiners.
Pipelines.
Al-Zour Pipeline job suffers further delay.
Terminals and shipping Puma starts up storage and fuel supply hub.
Tenders.
Posco in front for Sohar polyester contract.
News in brief.
Countries covered
Nigeria, Ethiopia, Democratic Republic of the Congo, Egypt, South Africa, Tanzania, Kenya, Uganda, Algeria, Sudan, Morocco, Mozambique, Ghana, Angola, Somalia, Ivory Coast, Madagascar, Cameroon, Burkina Faso, Niger, Malawi, Zambia, Mali, Senegal, Zimbabwe, Chad, Tunisia, Guinea, Rwanda, Benin, Burundi, South Sudan, Eritrea, Sierra Leone, Togo, Libya, Central African Republic, Mauritania, Republic of the Congo, Liberia, Namibia, Botswana, Lesotho, Gambia, Gabon, Guinea-Bissau, Mauritius, Equatorial Guinea, Eswatini, Djibouti, Reunion (France), Comoros, Western Sahara, Cape Verde, Mayotte (France), Sao Tome and Principe, Seychelles, Saint Helena, Ascension and Tristan da Cunha (UK), Egypt, Turkey, Iran, Iraq, Saudi Arabia, Yemen, Syria, Jordan, United Arab Emirates, Israel, Libya, Lebanon, Palestine (West Bank and Gaza Strip), Oman, Kuwait, Qatar, Bahrain.
Read the latest issue of World Pipelines magazine for pipeline news, project stories, industry insight and technical articles.
World Pipelines' May 2022 issue
The May issue features articles on pipeline project management, pipeline integrity software and automation. We've got three perspectives on metering and monitoring (from Sensor Networks, Rotork and Neles), and a pipeline safety piece from the PRCI.
Read the article online at: https://www.worldpipelines.com/special-reports/06052022/middle-east-and-africa-downstream-oil-markets-monitor-service-2022/
You might also like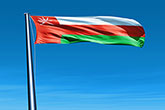 Oman's OQ Gas Networks announces price for gas pipeline business IPO.