---
An insulation material for subsea pipelines must guarantee flow assurance while at the same time exist in the harsh marine environment. The material's ability to perform dependably whilst dealing with high temperatures in wet conditions is of high importance.
Therefore researchers and developers are working on innovative solutions for pipeline construction on and offshore. Based on years of substantiated experience and working with high-performance materials with a deep understanding of the oil and gas industry, BASF developed Elastoshore GS – for thermal insulation of pipelines. The high-performance solid polyurethane elastomer is very versatile making it suitable for application areas such as field joints, line coat and static structures including manifolds, jumpers or tiebacks. Expected to deal with the high pressure that naturally occurs in the subsea environment, the material performs in water depths up to and well of over 3000 m.
Elastoshore GS is a versatile flow assurance system. It is easy to process and can be deployed subsea via all current offshore pipe lay techniques. With an 85°C hot/wet performance and a thermal conductivity of ~ 0.195 W/mK it offers high performance under extreme conditions. The material benefits from its elastomeric properties and is manufactured as a homogeneous system. Elastoshore GS has excellent adhesion. The material allows fast and efficient application: It takes less than five minutes in the case of field joints, to prepare the system for subsea deployment. With t application methods of cast or injection moulding, it requires low cost and simple equipment. Precious time is saved, extended cycle time is known to be a contributing factor to increasing the price of offshore projects. Additionally, low maintenance is needed – and downtime for inspection reduced.
Especially for large-scale projects, the applied materials must be easily accessible – for pipelines, this means worldwide. Elastoshore matches these expectations: It is globally available and allows high reliability and short delivery times through BASF's international network.
BASF has created – and is constantly refining – highly intelligent PU products for various insulation applications. At the upcoming OTC in Houston, Texas, 1-4 May 2017, BASF will present Elastoshore GS along with other innovative materials for safe pipeline construction.
BASF booth at OTC: NRG Park,UK Pavilion, booth 1439-L.
Read the article online at: https://www.worldpipelines.com/special-reports/06042017/extreme-conditions-require-high-performance-solutions/
You might also like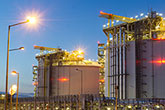 Prices pick up slightly but continue to remain deflated worldwide; prices did not respond as they did in 2022 despite disruption of gas pipeline supplies in Europe by multiple maintenance works.