---
IEEFA: winds shifting at FERC on gas project guidelines.
IEEFA writes:
The Federal Energy Regulatory Commission (FERC) last week gave the public more time to comment on the review of a policy document that guides its decisions on approving new interstate gas facilities, including pipelines.
FERC approves projects with Certificates of Public Convenience and Necessity that require the commission to assess the impacts of the project and determine whether or not the proposed new gas infrastructure is needed.
The review comment period, which was scheduled to be closed in less than three weeks, has been extended to 26 May. Unlike an abruptly abandoned 2018 effort at re-examining its certification policy statement – in which the commission received thousands of public comments but responded with silence – the process is likely to end differently this time, because FERC is signalling a willingness to reconsider previous positions.
The commission recently issued a precedent-setting decision to evaluate greenhouse gas (GHG) emissions in assessing a gas pipeline project's environmental impact. It also declared that when a project's indirect (i.e. downstream) GHG emissions are reasonably foreseeable, FERC must include a discussion of that indirect effect.
FERC cited two federal district court cases to support its position (Sierra Club v. FERC, 867 F.3d 1357, 1373 (D.C. Cir. 2017) and Birckhead v. FERC, 925 F.3d 510, 519 (D.C. Dir. 2019).
The project, proposed by the Northern Natural Gas Company, involved abandoning a segment of gas pipeline running from Nebraska to South Dakota and constructing a replacement pipeline, without increasing capacity.
Having determined the project would not generate new downstream GHG emissions because its capacity would remain unchanged, FERC approved it on 18 March.
The commission's ruling did not generate broad-based public attention. Those who follow the agency closely, however, recognise the importance of the decision. Prior to the Northern Natural Gas Co. ruling, FERC had repeatedly issued decisions finding that it was unable to assess the significance of a project's GHG emissions or the impact of those emissions on climate change. Before being appointed as chairman of FERC by President Joe Biden, Commissioner Richard Glick had regularly issued dissents to such rulings.
The Northern Natural Gas Co. decision, however, was made possible by the vote of Neil Chatterjee, the former FERC chairman appointed by President Donald Trump, who voted with Glick and Commissioner Allison Clements on the issue. He said his vote was a compromise to ensure that some new gas projects could go forward.
The newly reconfigured commission has not yet ruled on the critical matter of how it will examine the "necessity" for a gas pipeline. FERC has taken the position that it does not have to examine energy efficiency or renewable energy alternatives when determining the need for an interstate fossil gas pipeline. Instead, it has argued that it can establish need for a pipeline solely on the existence of a contract to buy a substantial portion of the gas ¬– even if the buyer is a pipeline company affiliate.
IEEFA released a December 2020 policy paper that criticised FERC's approach to pipeline necessity analysis as irresponsible. It emphasised that FERC is neglecting to analyse sweeping energy market changes that should inform its decisions on the necessity for proposed new interstate gas pipelines. The result of this neglect has been approvals of pipelines that later were cancelled because of market conditions that FERC should have identified and analysed. The commission now appears poised to grapple with those issues.
Until FERC produces a new certificate policy statement, Glick said the commission will assess GHG emissions on a case-by-case basis. Whether FERC will more comprehensively examine the need for new gas infrastructure projects on a similar case-by-case basis remains to be seen.
Changes at FERC are on the horizon. The five commission members are appointed to four year terms by the President and confirmed by the Senate. The commission must have at least two members of each party. Chatterjee, the former chairman, will be the first commissioner whose term will expire, on 30 June. Glick's term expires in June 2022, James Danly's in 2023, and Clements's in 2024.
For those engaged in gas pipeline issues in the United States, FERC's certificate policy statement review will be a critical opportunity for robust public debate on GHG emissions and the need for FERC to evaluate the rapidly growing alternatives to new gas pipeline infrastructure.
Read the latest issue of World Pipelines magazine for pipeline news, project stories, industry insight and technical articles.
World Pipelines' April 2021 issue
The April issue of World Pipelines includes a regional report on oil and gas pipeline activity in the Gulf of Mexico, along with technical articles on corrosion prevention, unpiggable pipelines and repair and rehabilitation. Don't miss the article on hydrogen pipelines!
Read the article online at: https://www.worldpipelines.com/regulations-and-standards/09042021/ferc-gives-public-more-time-to-comment-on-review-of-decisions-policy-ieefa-comments/
You might also like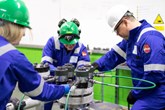 3t EnerMech named regional winner at top engineering awards for the second year in a row.