---
The Federal Energy Regulatory Commission (FERC) will review its policies on certification of natural gas pipelines, Chairman Kevin J. McIntyre revealed. The policy governs how the Commission evaluates natural gas pipeline proposals that come before it.
McIntyre said the Commission will examine the Policy Statement on Certification of New Interstate Natural Gas Pipeline Facilities, issued in 1999, as part of a pledge he made during his Senate confirmation to take a fresh look at all aspects of the agency's work.
"I believe we in the government should constantly be examining our various processes and procedures to see if we can do anything better," McIntyre said. "Much has changed in the energy world since 1999, and it is incumbent upon us to take another look at the way in which we assess the value and the viability of our pipeline applications."
The next steps will be announced in the near future, McIntyre said, adding that the format and scope of the review are being discussed. But he said that any review of this type would be thorough, and the Commission would invite the views of all stakeholders to ensure that FERC accurately and efficiently assesses the pipeline applications it receives.
"I am approaching this topic with an open mind and want the staff and the Commission to take a fresh look at all aspects of the issue," he said.
Read the article online at: https://www.worldpipelines.com/regulations-and-standards/02012018/ferc-to-review-1999-pipeline-policy-statement/
You might also like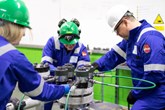 3t EnerMech named regional winner at top engineering awards for the second year in a row.