---
CH2M has announced the creation of the first natural infrastructure project in partnership with Shell Pipeline Company LP (Shell) along the Ship Shoal corridor in Blue Hammock Bayou. This innovative new project was designed to enhance pipeline integrity and safety, reduce infrastructure costs and protect and preserve the environment.
Blue Hammock Bayou sits on the Louisiana coast, where the Ship Shoal pipeline, a joint venture operated by Shell, runs 31 miles to deliver on average 200 000 bpd of crude oil from deepwater assets in the Gulf of Mexico to Louisiana. Due to natural erosive forces in Blue Hammock Bayou, the pipeline faces many challenges:
Integrity of operating pipelines, critical regional oil and gas infrastructure and the local energy economy.
Coastal erosion, further driven by subsidence, sea level rise and storms.
Challenging maintenance requirements and rising costs.
Changing hydrology and sediments that threaten an ecological asset and natural habitat.
Increased marine traffic and potential for incident along the pipeline right-of-way.
To mitigate these challenges, Shell collaborated with CH2M to create a non-traditional approach that would add positive impacts to the coastal ecosystem. What began as a social investment project that traditionally would be solved with more grey infrastructure turned into a long-term, sustainable and visually appealing solution. The pilot project began by conducting an analysis on the coastal environment. The next step involved designing a solution that included installation of vegetation and sediment-filled erosion baskets, coir logs filled with rock and coconut fibers, as well as sediment compaction and revegetation with robust clonal species adapted to depth and energy forces. The natural infrastructure solution, now a resilient and thriving ecological asset, was completed in October 2015.
"Applying this non-traditional approach and creating natural infrastructure projects are not only a win for Shell, but a win for the environment," said Geoffrey Gauthier, Shell Pipeline Company Operations Manager for the Offshore Gulf of Mexico Region. "It's through innovative solutions to challenging situations like this that will allow Shell to make a positive impact on the coast where we live, work and play."
In a collaborative effort supported by CH2M scientists, coastal engineers and Shell, ongoing monitoring and assessments of the Blue Hammock Bayou are being conducted. The findings indicate that the natural infrastructure approach is already performing beyond expectations, with strong plant growth and accumulation – rather than erosion – of sediments. The sustainable solution is protective of the pipeline, has helped stabilise the marsh, and has greatly enhanced the natural habitat. These findings and the benefits of the pilot project were recently presented at the Shell Conversation Summit.
The data collected from the analysis are being compiled to identify lessons learned and best practices for use in future design and implementation solutions for other oil and gas infrastructure.
The Blue Hammock Bayou natural infrastructure project was a win for Shell, CH2M and the local communities – one that can become a model for balancing coastal infrastructure integrity and an evolving natural environment today and for generations to come.
Read the article online at: https://www.worldpipelines.com/project-news/30082017/ch2m-announces-blue-hammock-bayou-natural-infrastructure-project/
You might also like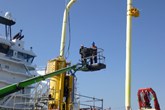 AIS awarded another custom coating project offshore Brazil.