---
The EnLink Midstream companies (EnLink), EnLink Midstream Partners, LP (the Partnership) and EnLink Midstream, LLC (the General Partner), yesterday announced that the Partnership will construct a new crude oil gathering system in the northern Delaware Basin called the Avenger Crude Oil Gathering System (Avenger). Avenger is expected to significantly expand EnLink's crude oil gathering operations in the area.
Avenger exemplifies EnLink's proven approach of utilising existing platforms to grow and expand service offerings with projects anchored by strong, active producers. EnLink successfully implemented this multi-commodity strategy in top US basins like Central Oklahoma and the Midland Basin.
The project is anchored by a 10-year contract with Devon Energy Corp. and is supported by dedications from Devon's Todd (Eddy and Lea Counties, New Mexico) and Potato Basin (Eddy County, New Mexico) development areas. Devon previously announced plans to direct a significant portion of its capital budget into Delaware Basin development.
"EnLink has an established natural gas footprint in the Delaware Basin, and Avenger expands our service offerings by leveraging our crude gathering expertise to better serve our customers," said Michael J. Garberding, EnLink President and Chief Executive Officer. "Our strong, long-term commercial relationship with Devon remains firmly in place, and today's announcement demonstrates our joint commitment to ongoing success together in several regions, from North Texas to Central Oklahoma and now in the Delaware Basin. Avenger is another high-quality project that evidences the success of EnLink's 'Right Places, Right Partners, Right Plan' business model."
The Partnership plans to invest approximately US$35 million to US$40 million of capital expenditures in the development of Avenger in 2018. These additional capital expenditures are incremental to the previously issued 2018 capital expenditures outlook for the Partnership's crude and condensate segment. Further capital expenditures are expected in future years as Devon continues to develop its acreage in the region. Initial operations are expected to commence during 3Q18, and full-service operations are expected to commence during 1Q19.
"Avenger is the third crude oil gathering platform in a high-growth basin that EnLink has announced over the last two years," Garberding said. "We expect these platforms to generate an attractive return, in the five to six times range, and provide long-term, stable cash flows."
EnLink is not constructing or operating Avenger through its Delaware Basin joint venture with NGP Natural Resources XI, L.P.
Read the article online at: https://www.worldpipelines.com/project-news/28062018/enlink-midstream-to-build-new-delaware-basin-crude-oil-gathering-system/
You might also like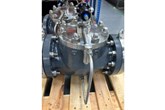 Oxford Flow expands its product range and grows market potential with new high- and low-pressure pilots.