---
The second or the last 32 in. and 4.5 in. pipeline operations of the South Pars Phase 14 plan will end by the mid October.
Hamid Reza Masoudi, project director of phase 14, pointed out that the first 32 in. sea pipeline operations of sour gas as well as 4.5 in. operations of MEG has been implemented 103 km long in August. He announced that 88 km of the second line has been performed so far and will end by the mid October.
Satellite and main platforms were connected by two 18 in. pipelines totalling 16 km during less than 20 days in July.
Masoudi announced that drilling operations of 22 wells of the platforms 14A and 14C are being completed. He also said that drilling complementary operations of the platform 14A, which are now under implementation, are significant steps taken towards installing the deck, launching the platform and possible producing from the phase 14 location of the shared field. He further said In order to perform these operations, necessary CRA pipes have been provided and the contractor has started its work to complete 11 wells on the platform 14A.
Referring to complementary operations of the platform 14C, masoudi stated since the CRA pipes have been provided, the drilling rig is located on the wells and the further operations will carry out on the location.
Project director announced that we are preparing a condition to transfer rich sour gas produced from the platform 14A to phase 12 refinery. He continued: "To transfer this amount of gas, an interconnection pipeline with the length of 5 km has been included in the agenda between these two phases and its operations are being performing with the proper process."
The platforms 14A and 14B, with the progress of 93 and 80 respectively, are being constructed at the industrial yard of ISOICO Company in Bandar Abbas. The contractor is engaged in precommissioning and commissioning of the platform 14A so that it is to be installed by the end of January 2018.
The platforms 14C and 14D were installed in the platforms 17&18 location. Thus, the two alternative platforms have been assigned to this plan from the SADRA yard which they are now being constructed with 72% of progress.
As scheduled, the satellite platform 14C will be ready to be loaded and subsequently installed in the location on February next year.
Read the article online at: https://www.worldpipelines.com/project-news/26092017/pipeline-operations-to-end-soon-for-south-pars-phase-14-pipeline/
You might also like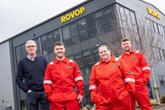 ROVOP focused on producing the 'next generation' of ROV pilots, adds three new trainees to its training programme.