---
Veresen Inc. (Veresen) is pleased to announce Jordan Cove Energy Project (Jordan Cove) and Pacific Connector Gas Pipeline (Pacific Connector) have filed applications with the United States Federal Energy Regulatory Commission (FERC) for the construction and operation of a 7.8 million tpy LNG export terminal in Coos Bay, Oregon and the related Pacific Connector that will transport natural gas from the Malin Hub in southern Oregon to the LNG export terminal.
"Completing the pre-filing phase and submitting the formal applications to FERC is a major milestone for the projects," said Don Althoff, President and CEO of Veresen. "Our significant efforts to optimise the design to minimise its environmental footprint and accommodate landowner requests, as well as the support of our world-class LNG buyers, should result in the receipt of the positive regulatory decisions required to build Jordan Cove. We look forward to continuing our work with the local community, Tribal leaders and FERC, as well as other federal and state agencies to advance Jordan Cove."
Jordan Cove and Pacific Connector have conducted open houses to present the project to the public. In addition, FERC held a series of public scoping meetings in June to collect further public input. The application includes the elimination of a 420 MW power plant, reflects more than 50 route adjustments of Pacific Connector and the optimisation of multiple water crossings to minimise environmental impacts via trenchless drilling techniques.
The total engineering, procurement and construction cost of both the LNG export terminal and Pacific Connector is approximately US$10 billion, with approximately 90% of US content. Additionally, the project will generate approximately US$60 million in annual property taxes, including US$20 million from Pacific Connector in the counties through which the pipeline traverses. The project will require approximately 6000 workers during construction and more than 200 new permanent jobs upon commissioning.
Jordan Cove and Pacific Connector are requesting that FERC issue a Draft Environmental Impact Statement in 2018, leading to FERC decisions by the end of 2018. This will position the project for a potential final investment decision in 2019 and an in-service date in 2024.
Read the article online at: https://www.worldpipelines.com/project-news/22092017/veresen-files-ferc-applications-for-jordan-cove-and-pacific-connector-projects/
You might also like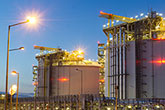 Prices pick up slightly but continue to remain deflated worldwide; prices did not respond as they did in 2022 despite disruption of gas pipeline supplies in Europe by multiple maintenance works.