Limited pipeline capacity will cost the Canadian economy CAN$10.7 billion in 2018, reports Scotiabank
Published by Lydia Woellwarth, Editor
World Pipelines,
---
Delays in oil pipeline construction, combined with massive discounts for Canadian heavy oil, are costing the economy CAN$15.6 billion a year, according to Scotiabank.
"Reliance on the existing pipeline network has a demonstrable impact on Canada's well-being," reported the Senior Vice-President and Chief Economist for Scotiabank, Jean-Francois Perrault.
Scotiabank describes the situation as a "self-inflicted wound", with Perrault adding that "the sooner governments move to allow additional pipeline capacity to be built, the better off Canada will be".
The steep discount for heavy oil, however, is predicted to ease with the increased use of railway cars to transport oil out of Canada whilst pipeline capacity remains inadequate. The expected cost will be approximately CAN$10.7 billion in 2018, then to CAN$7 billion each subsequent year until additional pipeline capacity comes online.
The three major proposed oil pipelines to export more oil from Western Canada are: Kinder Morgan Canada's Trans Mountain expansion, TransCanada Corp.'s Keystone XL, and Enbridge Inc.'s Line 3 replacement project. The elevated discounts could be dramatically shrunk if these pipelines were to go forward, however, all face delays.
Although the Canadian government has approved all three pipeline projects, environmental groups and local communities are involved in numerous court challenges and thus the in-service dates are delayed.
Western Canadian oil production has remained around US$24/bbl following the spill and temporary shutdown of TransCanada's Keystone pipeline in South Dakota in November 2017. This is vastly higher than the US$13/bbl spread for the past two years. Scotiabank expects the average barrel to be US$21.6 for the year ahead.
Companies in the oil industry have also expressed concern about the wide spread on prices. Cenovus CEO Alex Pourbaix recently discussed the extraordinary impact on the Canadian economy and how wealth is being transferred from Alberta and Canada to the US refiners and consumers.
Read the article online at: https://www.worldpipelines.com/project-news/21022018/limited-pipeline-capacity-will-cost-the-canadian-economy-can107-billion-in-2018-reports-scotiabank/
You might also like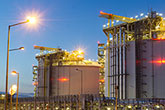 Prices pick up slightly but continue to remain deflated worldwide; prices did not respond as they did in 2022 despite disruption of gas pipeline supplies in Europe by multiple maintenance works.