ARB Midstream LLC announces start-up of new crude oil gathering system in the DJ Basin
Published by Aimee Knight, Editorial Assistant
World Pipelines,
---
DJ South Gathering, LLC ('DJS'), a subsidiary of ARB Midstream, LLC ('ARB') has announced a key expansion of its fast-growing crude oil gathering and transportation system in the prolific DJ Basin in northeastern Colorado.
The Badger Pipeline, one of three large diameter transmission lines currently being constructed by DJS, started receiving crude oil this month. With a throughput of 90 000 bpd, Badger transports production from southwestern Weld County and delivers into 300 000 bbls of dedicated crude oil storage at Platteville, the key crude oil hub within the DJ.
Badger is one segment within the larger DJS system, which also includes the 220 000 bpd Matador pipeline, Bennet Station, the 150 000 bpd bi-directional Freedom pipeline and the Platteville Storage and Distribution network. Matador is slated to be in service in late 2019. This large transmission line is the first and only line that links Platteville to the southern region of the DJ. Bennett Station provides truck and gathered barrel origination into Matador, and crude qualities are segregated into onsite tankage. Freedom pipeline is the bi-directional, large diameter transmission line that will link Platteville to Lucerne West. Lucerne West is the delivery point of ARB's existing Platte River Gathering System in the northern DJ. At Platteville, DJS is developing a header system that interconnects with multiple long-haul takeaway pipelines and delivers crude oil to downstream markets.
ARB's crude oil gathering systems include over 250 miles of new pipeline covering the core of the DJ Basin, with over 625 000 bpd of planned and existing throughput capacity and 600 000 bbls of storage. At over 250 000 dedicated acres underpinned by long term, fixed-fee contracts with numerous customers, ARB is the largest privately held crude oil gatherer in the DJ Basin.
The expansion of the ARB Midstream pipeline system in the DJ Basin is funded by Ball Ventures through its energy division: BV Natural Resources ('BV').
Read the article online at: https://www.worldpipelines.com/project-news/16102019/arb-midstream-llc-announces-start-up-of-new-crude-oil-gathering-system-in-the-dj-basin/
You might also like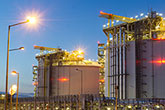 Prices pick up slightly but continue to remain deflated worldwide; prices did not respond as they did in 2022 despite disruption of gas pipeline supplies in Europe by multiple maintenance works.