---
Reuters is reporting that Enterprise Products Partners LP's Seaway crude pipeline will not achieve a targeted increase in capacity to 950 000 bpd because of issues unrelated to the expansion, the company has stated.
Enterprise and its joint venture partner, Canadian pipeline operator Enbridge Inc, originally expected to begin taking an additional 100 000 bpd in September. In recent days, it began adding a friction-reducing agent to increase the potential capacity of the 760 mile (1223 km) pipeline.
However, the September target date has been delayed due to what was described as third-party issues unrelated to the capacity expansion, Enterprise spokesman Rick Rainey said. He declined to provide further details.
The crude production surge in the Permian basin of West Texas and New Mexico, the biggest oil patch in the US, has outpaced the region's pipeline capacity, causing bottlenecks and depressing prices in the region. Enterprise and others are building new or expanding existing lines to soak up the new production.
The existing Seaway system was expanded several years ago to carry up to 850 000 bpd from the main US crude storage hub in Cushing, Oklahoma, to storage facilities and refineries along the Gulf Coast.
Read the article online at: https://www.worldpipelines.com/project-news/10102018/enterprise-crude-pipeline-expansion-to-be-delayed/
You might also like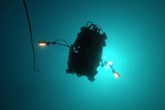 Voyis and Deep Trekker, have joined forces to achieve the successful fusion of Voyis' Discovery Camera with Deep Trekker's REVOLUTION ROV.