Reading through 3LPE & 3LPP coatings using an intrinsically safe thickness gauge
Published by Bella Weetch, Editorial Assistant
World Pipelines,
---
3-Layer Polyethylene/Polypropylene (3LPE/3LPP) coatings are capable of withstanding a wide variety of temperatures and environments and as a result 3LPE and 3LPP are the industry standard coatings for the transmission of oil and gas via buried pipelines.
The 3LPE/3LPP coating is a multilayer coating composed, as its name suggests, of three distinct, layered components:
A fusion bonded epoxy layer
A copolymer adhesive layer
A polypropylene or polyethylene layer.
And while the complex nature of the layered coating has huge benefits for protecting the external wall of the pipe, these layers can make it harder for simple, regular inspection of the internal wall - where, corrosion and erosion can be taking place out of sight.
All of Cygnus' MK5 ultrasonic thickness (UT) gauges use S2C probes to enable its equipment to penetrate through up to 20 mm of coating – with absolutely no need to remove or damage any aspect of the 3LPE / 3LPP coating. Cygnus UT gauges are very easy to use; simply place the probe on the outside of the coated pipe and they will 'read through' the coating – and present the user with the internal steel thickness only.
This ability to read 'through' 3LPE is a key feature of the Cygnus Intrinsically Safe (I.S.) thickness gauge. This unit is the world's only thickness metre that is certified to Class 1, Div 1 ("Zone 0") for ATEX, IECEx and CSA-US for use in potentially explosive atmospheres.
Safety is of course the leading driver when an engineer chooses ATEX certified equipment, as Chris McChesney of Marine Technical Limits (MTL) explains: "as a leading FPSO integrity and repair management company, we ensure we are always meeting the highest possible standards. On an FPSO, one is surrounded by confined spaces, Zone 0 and Zone 1 environments; so wherever relevant we will use ATEX equipment".
"The Cygnus 1 Intrinsically Safe gauge is the perfect tool to have in the bag should any of our technicians identify areas suspected of exceeding corrosion limits. It is lightweight, rugged and really easy to use. So it provides that extra information - with no fuss".
With the unit being certified intrinsically safe to ATEX Marking Group I & Group II / CSA Class 1 Group A, B, C & D Division 1, the Cygnus I.S. thickness gauge is ideal for use in Zone 0, Zone 1 hazardous areas and requires no plant shutdown or hot work permit.
The unit is an invaluable inspection tool on all 3LPE coated pipelines, LPG vessels and FPSOs, in oil and gas production facilities – and the I.S. gauge has also been approved for use in mines.
Cygnus Instruments is a UK based manufacturer that has been making the highest quality UT instruments for 40 years; and the company genuinely knows and understands that these are tools that will lead a rough life. The Intrinsically Safe gauge is a highly ruggedised piece of equipment that comes with a three year warranty as standard.
For further information, please visit the Cygnus Instruments website or phone the company on +44 (0)1305 265533.
Read the article online at: https://www.worldpipelines.com/product-news/25112020/reading-through-3lpe-3lpp-coatings-using-an-intrinsically-safe-thickness-gauge/
You might also like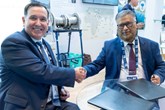 The partnership is to bring critical flange isolation offerings for the Kingdom of Saudi Arabia.