---
Breaking the industry convention and beating status quo through a bespoke cloud-based solution designed to capture, store, process, model, and report on the integrity of subsea pipelines requires more than just software platforms. It calls for an industry-wide change in addressing how data for subsea pipeline integrity is acquired, analysed, and the subsequent advice presented. This approach to driving change within the Middle East incorporates a fundamental shift in the acquisition parameters associated with remote inspection solutions and advances the integration and visualisation capabilities, allowing pipeline conditions to be presented holistically. This transformation starts with adopting change and embracing geodata as a catalyst.
The key to managing infrastructure
Geodata relates to natural or artificial objects and their location on the earth's surface. The relative location can be an explicit or implicit association with a location on earth. Geodata is also the key to designing, building and operating any structure on or below the earth's surface. Typical geospatial or geographic data types include databases about elevation, hydrography, environmental, administrative, and more. Geodata is growing in its entire diversity and size, with use cases expanding in most, if not all, industry sectors. The rapid growth of geodata sources and acquisition methods introduces the scale benefit of data availability, which, under the term 'big data', provides new opportunities and challenges across these industry sectors. Combining the demand increase caused by the energy transition with the environmental impact drives the desire to adopt emerging technologies to fill the demand and supply gaps with safer and greener alternatives.
Technology (digitalisation) impacts development speeds as well as sustainability monitoring, measuring and managing infrastructure. This digitisation accelerates the extension of asset lifecycles based on sustainable approaches. However, creating and maturing sustainable infrastructure requires the effective use of geodata technology or platforms to effectively manage infrastructure assets over their entire lifecycle. Geodata is the focal point that drives knowledge management of interrelated infrastructures above the surface, underground and in our oceans. Furthermore, geodata empowers site appraisal, design and development, construction, operations and maintenance, and decommissioning for various infrastructure assets (i.e., water supplies, energy generation, transportation, and more). Lastly, geodata enables 3D infrastructure modelling to visualise and validate projects at their inception; by continually updating these models with real-world measurements throughout the asset's lifecycle. It is possible to monitor its condition and identify potential problems before they occur, allowing investors or operators to determine costs and benefits ...
To access the full version of this article and get a free trial subscription to World Pipelines, be sure to sign up here!
Read the article online at: https://www.worldpipelines.com/product-news/10062022/making-sense-of-pipelines/
You might also like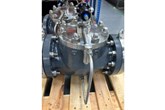 Oxford Flow expands its product range and grows market potential with new high- and low-pressure pilots.