---
Oil and gas pipelines are growing in number and branching out across the globe as more and more countries rely on imports for their energy supplies. Today, the notion of a country in the world without a large and complex network of pipelines is unheard of. Pipelines are of critical significance for the global economy and corrosion is quickly becoming one of the leading causes of piping and storage tank failures, therefore, the health of these critical assets is essential.
Corrosion-related costs for monitoring, replacing, and maintaining gathering and transmission pipelines is estimated at US$7 billion annually in the US alone, with another US$5 billion for gas distribution. A key component to pipeline corrosion management and its integration into an organization's management system must be accomplished by implementing a Corrosion Management System (CMS).
NACE International has a collection of technical resources, standards and papers meant to strengthen your pipeline CMS through information on procedures, tips, and techniques for corrosion control. Some of these resources convey decades of industry knowledge and provide practical tools to manage, prevent and mitigate corrosion.
Among some of the hundreds of titles available at the NACE international online bookstore are:
Pipeline Coatings (Best Seller!)
By Y. Frank Cheng & Richard Norsworthy
Product Number: 37616 or 37616-E, Available in both print and e-Book format, US$120
These authors provide a history and description of various types of pipeline coatings; offer practical information on how to select, test, evaluate, and compare different coating systems; and discuss how coatings work with Cathodic Protection (CP)/CP shielding.
Peabody's Control of Pipeline Corrosion, Third Edition (Best Seller!)
By A.W. Peabody
Product Number: 37617 or 37617-E, Available in both print and e-Book format, US$140
In this newly revised and updated edition, Peabody provides the most thorough and authoritative coverage of the prevention and control of pipeline corrosion including a new chapter focused on AC interference. It blends traditional corrosion engineering practices with modern technologies to make this the single source for corrosion control using updated chapters and graphics to expand on what is considered one of the most trusted resources in the field.
Pipeline Risk Management Manual, Third Edition (Best Seller!)
By W. Kent Muhlbauer
Product Number: 37789, US$155
An expanded and updated reference guide offering a tested and proven system to pipeline engineers, designers, operators, and managers a practical, straightforward method for analyzing pipeline risks to prevent loss and assess risk. This edition covers many additional aspects of pipeline risk management, including risk and cost of service interruption, the risk of sabotage, methods to assess environmentally sensitive and high-value areas, work-place stress, and human error potential. This edition also addresses offshore pipelines and distribution system pipelines as well as cross-country liquid and gas transmission pipelines.
2017 CORROSION Conference Paper: Pipeline New Construction Challenges
By Eric Langelunch
Product Number: 51317-8947-SG, US$20
Pipeline installation is accomplished with the efforts of multiple teams, including safety, transportation, materials/equipment, and construction, all of whom have their own duties and concerns. This paper, from NACE International's 2017 CORROSION Conference, discusses practical approaches to the many concerns related to the construction of new pipeline and above ground storage tanks, including new technological tools and monitoring techniques, as well as first-hand lessons learned and company policies that have been developed as a result.
STANDARD: ANSI/NACE SP0502-2010-SG, Pipeline External Corrosion Direct Assessment Methodology
By NACE International
Product Number: 21097-SG, US$69
This newly revised standard covers the four components of NACE International's external corrosion direct assessment (ECDA) process: Preassessment, Indirect Inspections, Direct Examinations, and Post Assessment. The ECDA process consists of assessing and reducing the impact of external corrosion on pipeline integrity. It is a continuous improvement process providing the advantages of locating areas where defects can form in the future, not just areas where defects have already formed, thereby helping to prevent future external corrosion damage.
In addition to these valuable resources, NACE International also offers several training programs to help further develop your general and pipeline-specific corrosion knowledge. The Internal Corrosion for Pipelines courses provide students with the fundamentals of implementing, monitoring, and maintaining an internal corrosion control program and the Pipeline Corrosion Integrity Management course focuses on both the remediation technology and management of an integrity management program.
Among the pipeline training courses offered are:
In today's competitive market, standing out among your peers and staying on top of new developments is crucial to advancing your career. Taking advantage of training and education through NACE, especially when combined with the expansion of your technical library, can launch a new career, broaden your area of expertise, and offer greater recognition and credibility amongst your peers both within your company and in today's job market.
Visit the NACE International online bookstore today to check out these titles and more!
Author: Beth Valvano, NACE International
Read the article online at: https://www.worldpipelines.com/equipment-and-safety/01112018/expand-your-corrosion-expertise-with-these-valuable-pipeline-resources/
You might also like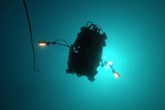 Voyis and Deep Trekker, have joined forces to achieve the successful fusion of Voyis' Discovery Camera with Deep Trekker's REVOLUTION ROV.