---
Gulf Interstate Engineering Company has been selected by Total Exploration & Production Uganda (TEPU) and its partners, China National Offshore Oil Corporation (CNOOC) and Tullow Oil, to provide front end engineering and design (FEED) services for the East African crude oil pipeline (EACOP); a 1445 km pipeline running from Kabaale in the Lake Albert region of Uganda, to Chongoleani near the port of Tanga in Tanzania (east coast of Africa). The pipeline will export crude oil to world markets.
A number of concept and feasibility studies performed by multiple international engineering firms considered various routes through Kenya and through Tanzania for the export pipeline. Since late 2014, Gulf has assisted TEPU and its partners with conceptual design and other pre-FEED support services to evaluate the various pipeline route options and to develop the selected Tanzania route. In 2016, the Uganda and Tanzania Governments approved the route through Tanzania to Chongoleani in Tanga.
On 9 January 2017, representatives of the Governments of Uganda and Tanzania, Total, CNOOC, Tullow Oil and Gulf Interstate Engineering, commenced the FEED phase with a launch ceremony at the Ministry of Energy and Mineral Development in Kampala (Uganda). The components of the EACOP include:
Systems to accommodate a design flowrate of 216 000 bpd.
A 105 km feeder pipeline from the central production centre in Buliisa (Uganda) to the first pump station at Kabaale.
A 50 km feeder pipeline from the Kingfisher production field to the same pump station at Kabaale.
A 1445 km, 24 in. dia., 1400 psig buried electric heat-traced pipeline commencing at Kabaale, to the termination point at the Port of Tanga.
A maximum of six pump and heater stations along the route up to the crossing of the East African Rift, which occurs at approximately KP 950.
A maximum of two pressure reduction stations from KP 950 to KP 1445.
An onshore storage tank farm at Chongoleani consisting of five 500 000 bbls heated storage tanks.
A marine terminal pump station capable of loading a 1 000 000 bbl tanker within a 28 hr period.
A 1.7 km offshore trestle to a single berth load-out platform.
The EACOP project FEED phase will have to address a number of technical and execution planning challenges including designing an insulation and heat tracing approach for the pipeline due to the high wax content of the crude oil; local power generation options; and planning for early construction works to accommodate pipe deliveries, coating and storage in advance of pipeline construction, construction of access roads, construction camps and other logistical requirements to facilitate construction of the pipeline and facilities.
Gulf Interstate Engineering will perform the FEED in its Houston (Texas, USA) office, under the supervision of the Pipeline Project Team, which includes representatives from the three oil companies and the two governments. Some 85 engineers and technical specialists will be involved in the FEED work.
The FEED phase is scheduled for completion in August 2017.
Read the article online at: https://www.worldpipelines.com/contracts-and-tenders/20042017/gulf-to-deliver-feed-services-for-the-east-african-crude-oil-pipeline/
You might also like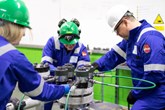 3t EnerMech named regional winner at top engineering awards for the second year in a row.