---
Sergey Ermish, General Manager, Transneft Diascan, participated in the signing ceremony of the Memorandum on Co-operation between Transneft and Sonatrach National Company for exploration, production, transportation, refining and sales of hydrocarbons in Algeria.
The document was signed by Mikhail Margelov, Transneft Vice President, and Abdelmumen Uld Kaddur, Sonatrach CEO, as part of the visit of Russian Premier Dmitry Medvedev to Algeria.
Transneft and Sonatrach intend to co-operate in such fields as non-destructive screening and improvement of safety of the pipeline infrastructure operation. Transneft Diascan, Russia's major provider of technical diagnosis services for oil pipelines, petroleum product trunk pipelines and tanks, will play the principal part in promoting the cooperation.
The co-operation negotiations were conducted between Transneft, Transneft Diascan and Sonatrach were held in 2016/2017. In particular, in January 2017, top management of the Algerian company visited Transneft Diascan. Ait Messaoud Abdelmalik, Head of the General Manager's Administration, Arbi-bei Slimane, Deputy General Manager, Aoulkhadzhi Abdelkader, Director, Pipeline Integrity Department, and Bouga Noureddine, Director, Prospecting Department, at Sonatrach visited the Company. Production and technological capacities of the Company were shown to the guests. Representatives of the Algerian Company highly appreciated the diagnostic equipment of Transneft Diascan, by noting the diversity of the fleet of diagnostic facilities and the full production cycle, from design of devices to manufacture of parts for assembly and subsequent repairs of the equipment.
Sonatrach is an Algerian state-owned oil and gas company, the biggest company in the African continent by its economic indicators (among enterprises of all lines of business). Sonatrach is engaged in upstream and downstream operations and also invests into the electricity industry development.
Transneft Diascan is the largest Russian supplier of technical inspection services in respect of pipelines and tanks, with more than 25 years' experience and expertise in the market. The enterprise owns a large fleet of modern inline inspection devices from 6 - 48 in. in diameter, which ensures precise evaluation of technical condition of pipeline transportation facilities. The average annual amount of inline inspection carried out by Transneft Diascan is about 60 000 km of pipelines.
Since 1991 Transneft Diascan has examined over 1 million km of pipelines. Transneft Diascan serves customers in 12 countries and employs over 2000 highly-skilled professionals worldwide. In 2016, Transneft Diascan diagnosed over 5000 km of pipelines abroad using specialist equipment designed and manufactured by Transneft Diascan.
Read the article online at: https://www.worldpipelines.com/contracts-and-tenders/19102017/transneft-diascan-signs-memo-with-sonatrach/
You might also like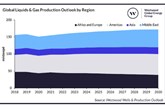 New report from Westwood finds liquids and gas production set to reach 173 million boe/d by 2030, with 9% growth on 2022 levels.