---
Optilan, a leading telecommunications and security systems integrator, has successfully completed the first year of operation on the BTC pipeline project, resulting in the award of the continued Support and Maintenance contract for the system.
The Baku-Tbilisi-Ceyhan Pipeline Company Limited (BTC), a joint venture company whose major shareholder is BP, has awarded Optilan an additional two year contract for Years 2 and 3 Maintenance on the PIDS enhancement project.
The pipeline transports crude oil from the Caspian Sea to the Mediterranean Sea.
Optilan has partnered with BTC on these assets since 2012, when Optilan was appointed to install enhanced security along the 1076 km Turkey section on the pipeline.
The new contract will now focus on long term sustainable collaboration to ensure the effective maintenance of the systems installed, for which safety and efficiency will remain central to execution. This will cover maintenance for the following systems: Pipeline Monitoring, Perimeter Security and CCTV, installed along the Turkey section of the pipeline with Control Centre.
The agreement is another example of Optilan's capabilities and expertise in the pipeline sector. As a global leader, Optilan will deliver this project from its Turkish office as the main contractor on the project. This follows a string of project awards made recently in the region, including the Misurata Power plants by ENKA and the Jubail-Riyadh Water Transmission System by Limak, which highlights Optilan's global footprint.
Bill Bayliss, Chief Executive Officer of Optilan, commented on the award, "We are exceptionally proud to be awarded the additional work for the BTC pipeline maintenance. Having installed the initial systems, it is great to continue our relationship with our client following the successful results on the project so far and I believe it is a testament of the hard work of our team to achieve this.
This contract on the BTC pipeline will take our involvement in the project beyond a decade, which is a superb achievement that we're proud of.
We've had an incredibly strong year with a number of significant contract wins on some world-leading projects. We're looking forward to continuing that for the final quarter of 2021 and into 2022."
Read the latest issue of World Pipelines magazine for pipeline news, project stories, industry insight and technical articles.
World Pipelines' October 2021 issue
The October issue opens with a report on pipeline activity in the Middle East and North Africa. Technical articles in this issue focus on pipeline construction, fire optic sensing and hydrogen pipelines. Don't miss the project story on the Greece-Bulgaria (ICGB) pipeline project!
Read the article online at: https://www.worldpipelines.com/contracts-and-tenders/07102021/optilan-wins-new-two-year-btc-crude-oil-pipeline-contract/
You might also like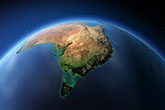 Australian Government's consultation paper recognises need for investment in new gas supply for net-zero transformation.