---
In 2019, production growth will necessarily slow down in two key US shale basins due to pipeline constraints, according to ESAI Energy's recently published North America Watch. Crude oil from the booming Permian Basin in West Texas has already been impacted with steep price discounts from a lack of pipeline takeaway, but the Bakken in North Dakota will start to feel the pinch next year as record production levels fill available pipeline space. Since production growth will slow down but not decline, these regions will be increasingly dependent on sending crude by railcar to get to markets in 2019.
Crude delivered by rail from the Bakken is expected to grow from an average of 230 000 bpd this year to approximately 300 000 bpd in 2019, as production growth fills available pipeline capacity. Markets on the East and West coasts will be the destination for most of the additional volumes sent by rail, and ESAI Energy expects this to continue until more pipeline projects are realised. Takeaway relief will come to the Permian Basin in 3Q19 as incremental capacity becomes available on new pipelines under construction. Production from the Permian will necessarily slow down as costlier rail becomes the marginal mode of transport for most of 2019. ESAI Energy expects production to surge again in 2020 once new pipelines have started up.
"The tremendous amount of potential pipeline capacity planned for the Permian Basin will likely be underutilised for a time until production growth catches up" points out Elisabeth Murphy, analyst at ESAI Energy. "The push is really on to get crude to the USGC for possible export opportunities".
Read the article online at: https://www.worldpipelines.com/business-news/30102018/crude-by-rail-volumes-higher-in-2019/
You might also like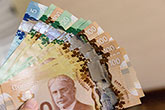 Trans Mountain Corp applies to regulators for tolls on its long-delayed 590 000 bpd pipeline expansion.