---
In relation to the presence of oil spots in the Pastaza River, from the North Branch Pipeline, near the district of Andoas, Datem del Marañón province, Loreto region, PETROPERÚ informs the public that:
Upon learning of the presence of these oil slicks in the Pastaza River, PETROPERÚ immediately activated its Contingency Plan, displacing several teams of specialists to the area by air, land and river. Likewise, in a preventive manner, the pumping of the North Branch Pipeline was suspended.
From this point on, and to date, the company has carried out inspections by means of air, ground and river patrols and internal tests of the pipeline with specialised companies.
In these preliminary tests, no signs of damage or pressure loss have been identified. Likewise, the results of the internal inspection carried out by Rosen, a German company specialising in pipeline maintenance, conclude that there are no corrosion problems in the infrastructure at the sub-fluvial junction of the North Branch Pipeline with the Pastaza River.
It should be noted that in recent flights over the area it has been observed that oil spots have disappeared.
PETROPERÚ will continue with the investigations, undertaking bathymetric studies with 3D technology to determine whether any cracks exist in the pipeline as a result of the Pastaza River being swollen from the rainy season. These studies will be carried out by a specialised company from Costa Rica.
PETROPERÚ is in permanent co-ordination with the corresponding agencies, which already have technicians in the area to carry out the corresponding evaluations. Likewise, PETROPERÚ has been permanently informing the community of the progress of the investigations.
PETROPERÚ will continue to report the results of the activities aimed at determining the origin of the event and take the necessary actions to safeguard the safety of the surrounding communities and the protection of the environment.
Read the article online at: https://www.worldpipelines.com/business-news/29052018/continued-investigations-to-determine-origin-of-oil-spots-in-pastaza-river/
You might also like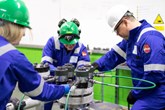 3t EnerMech named regional winner at top engineering awards for the second year in a row.