---
32 oil tanker cars derailed on Friday 22 June in Lyon County, Iowa. The train was carrying oilsands from Alberta, Canada, to Stroud, Oklahoma, for ConocoPhillips. Oil has leaked from 14 of the tankers, spilling into floodwaters and eventually in the rain-swollen Little Rock river. ConocoPhillips spokesman Daren Beaudo said each tanker can hold more than 25 000 gal. of oil.
Officials say 230 000 gal. spilled after the derailment, with some of it being carried down the Little Rock and Rock rivers. Approximately 100 000 gal. has been contained with booms in a low-lying area filled with floodwaters near the derailment.
BNSF railroad spokesman Andy Williams said workers have unloaded oil from 10 of the oil tank cars that did not leak after the derailment approximately 15 miles south of the Minnesota border.
Williams said the derailed cars were a model known as DOT-117Rs, indicating they were newer or had been retrofitted to be safer and help prevent leaks in the event of an accident.
Officials at the scene agreed that floodwater from the swollen Little Rock River played a part in causing the cars to leave the tracks, but said they were not yet sure whether the waters compromised the track, physically pushed the cars off it or played a part in some other way. The river rose rapidly after 13 to 18 cm of rain fell in the days prior to the derailment.
Lyon County Sheriff Steward Vander Stoep said between 30 and 40 semitrailers containing clean-up equipment had arrived at the scene near Doon, Iowa, by Friday afternoon.
The derailment also caused concern downstream, including as far south as Omaha, Nebraska, approximately 150 miles (240 km) from the derailment site. The spill reached the Rock River, which joins the Big Sioux River before merging into the Missouri River at Sioux City.
Omaha's public water utility – Metropolitan Utilities District – said it was monitoring pumps it uses to pull drinking water from the Missouri River.
Rock Valley, Iowa, just southwest of the derailment, shut off its water wells within hours of the accident. It plans to drain and clean its wells and use a rural water system until testing shows its water is safe.
Read the article online at: https://www.worldpipelines.com/business-news/25062018/oil-train-derails-in-iowa-spilling-crude-into-the-river/
You might also like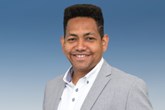 ICR Group's inspection technology has achieved accreditation from two globally-recognised bodies.