---
The successful procedure ensured credits to Bulgartransgaz EAD from banks, collateralised with cash deposits in US dollars for six months with the possibility for a further six months. The funds will be used both to cover investment costs linked with the realisation of the Balkan Stream project and advance payments to the companies involved in the project, namely Association Consortium Arkad and DZZD Ferrostaal Balkangaz.
Nine offers were received within the procedure and contracts have already been signed with some of the biggest international financial institutions including Citibank Europe, ING Bank, UniCredit Bulbank AD and the International Bank for Economic Co-operation. The advance payment to Consortium Arkad, who is already building the gas pipeline network, totals BGN 250 million (and 50 million VAT); payments to Ferrostaal Balkangaz, who will construct the two compressor stations (Rasovo and Nova Provadia), total BGN 140 million (and 28 million VAT). The repayment term for the remaining sum of the gas pipeline is 120 months as of its commissioning, and for the compressor stations, 24 months.
The ensured finance allows Bulgartransgaz EAD to comply with the obligations in line with the contracts signed under the project, and will at the same time generate a significant positive effect of more than BGN 2 million. This is possible as the interest levels of US dollars (which is the currency of the collateral) on global markets are significantly higher than the euro rates.
Read the article online at: https://www.worldpipelines.com/business-news/24102019/bulgartransgaz-ead-raises-200-million-for-balkan-stream-pipeline/
You might also like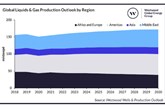 New report from Westwood finds liquids and gas production set to reach 173 million boe/d by 2030, with 9% growth on 2022 levels.