---
According to ESAI Energy's recently released One-Year Global Fuels Outlook, the US gasoline surplus will expand by roughly 80 000 bpd next year as demand continues to plateau and output keeps rising. Since first moving into surplus in 2016 the US gasoline balance has risen steadily to roughly 350 000 bpd this year. As a result of a growing surplus, combined US exports of finished gasoline and motor gasoline blending components will rise to over 1.0 million bpd next year.
However, at the same time, the gasoline deficit in Latin America, which receives most US exports, will narrow slightly as regional gasoline output recovers. With total US gasoline exports expected to rise and the deficit in the US' primary export market shrinking, exporters will look not only to capture greater market share in Latin America by replacing volumes from other exporters in Europe and Asia, but also look to increase exports to other markets.
But, as ESAI Energy analyst Ian Page states, "excess US gasoline volumes will face stiff competition in an oversupplied global market." Next year, the Asia-Pacific and FSU gasoline surpluses will both increase. Meanwhile the Middle East's deficit will shrink dramatically from over 300 000 bpd to less than 150 000 bpd due to major supply growth in Saudi Arabia, Iran, and the UAE, where significant refining capacity is coming online. These developments in combination with rising US exports will exert bearish pressure on global gasoline markets and gasoline spreads to crude will weaken even further in 2019.
Read the article online at: https://www.worldpipelines.com/business-news/20122018/esai-energy-expects-us-gasoline-exports-to-maintain-growth/
You might also like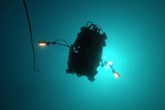 Voyis and Deep Trekker, have joined forces to achieve the successful fusion of Voyis' Discovery Camera with Deep Trekker's REVOLUTION ROV.