---
Chesapeake Utilities Corporation, has announced its acquisition of Marlin CNG Services, a premier North American supplier of mobile compressed natural gas (CNG) utility and pipeline solutions.
"With increased opportunities for mobile fuel and virtual pipeline solutions on the horizon, this acquisition aligns with our strategic plan as we expand the scope of our services throughout our service territories and beyond. Acquiring Marlin CNG Services allows us to extend our services and utilise customised equipment to meet the needs of natural gas suppliers and customers," said Michael P. McMasters, President and Chief Executive Officer of Chesapeake Utilities Corporation.
Since 1996, Marlin has been providing virtual pipeline applications to local gas distribution utilities, municipal gas companies, intrastate and interstate pipeline companies, natural gas producers, manufacturers and large industrial customers throughout North America. Using its experienced and fully certified staff in combination with its fleet of CNG tankers, mobile compressors and patented offload regulators, Marlin provides gas supply support during planned interruptions of service and responds rapidly to unexpected interruptions.
"This acquisition extends Chesapeake's service offerings to a variety of new customers, allows for flexibility in meeting the needs of local distribution and transmission companies, and supports the expansion of our business," said Jeffry M. Householder, President of Chesapeake Utilities Corporation's Florida Business Unit.
Marlin provides an array of gas supply solutions to address most supply interruption scenarios and offers other unique applications where pipeline supplies are not available or cannot meet customer requirements. These applications include solutions for winter peaking supplies, pipeline integrity testing, equipment testing, pipeline reconstruction, fuel supply switching and bridging supply requirements in advance of pipeline connections.
Read the article online at: https://www.worldpipelines.com/business-news/20122018/chesapeake-utilities-corporation-acquires-marlin-cng-services/
You might also like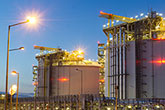 Prices pick up slightly but continue to remain deflated worldwide; prices did not respond as they did in 2022 despite disruption of gas pipeline supplies in Europe by multiple maintenance works.