---
Schlumberger Chairman and CEO Paal Kibsgaard commented, "The second quarter was both busy and exciting for Schlumberger as we completed a number of major milestones in preparation for the broad-based global activity upturn that is now emerging. We delivered solid top-line growth both in North America and the international markets, building on our strong contract portfolios and our recent tender wins. We mobilised an unprecedented 29 new rigs for our international integrated drilling business, including our first commercial Land Rig of the Future deployment in Saudi Arabia. We successfully rolled out our new, streamlined operations support organisation, building on five years of methodical investment to further professionalise all aspects of our work, which will set new standards for internal efficiency, quality, teamwork, and collaboration. As part of this, we made the last adjustment to our organisational setup in the second quarter to conclude the removal of one complete layer of our management and support structure. This will further reduce our cost base, and improve our agility and competitiveness going forward.
"Given the considerable number of new projects we are starting up throughout our international operations, our organisation has responded well to both mobilisation and project start-up challenges. However, the associated costs together with some operational delays impacted our second quarter pre-tax operating margins. This resulted in our sequential margin expansion being below our expectations.
"In North America, excluding Cameron, second quarter revenue of US$2.5 billion increased 12% sequentially as we continued our deployment of additional hydraulic fracturing and directional drilling capacity. Despite the impact of the spring break up in Canada, North America Land revenue grew 9%, driven by market share gains and operational efficiency improvements while pricing remained flat. In the hydraulic fracturing market, we are seeing an accelerating customer trend of separating the procurement of pumping services and sand supply. As our multiyear vertical integration investment programme approaches completion, it enables us to bid competitively on integrated or stand-alone sand contracts. North America Offshore activity began to recover during the second quarter with new drilling projects starting up in Eastern Canada, the US Gulf of Mexico, and the Caribbean, resulting in sequential offshore revenue growth of 22%.
"Excluding Cameron, second quarter revenue in the international markets of US$4.4 billion grew 6% sequentially despite flat revenue in Russia, and only nominal growth in the Middle East, where start-up and project delays affected our results. Sequential growth was driven by an 18% improvement in Asia and Australia, 9% in Europe and Africa, and 3% in Latin America. These figures confirm that a much broader-based international recovery is now emerging. Pricing improved in the international markets during the second quarter, and while the numbers are not yet material, a trend has been established and customer pricing discussions are continuing both for new and existing contracts. With a number of large-scale project awards absorbing our remaining spare capacity in both drilling and production services, our equipment will be fully deployed during the fourth quarter, after which we expect a further strengthening of the international pricing recovery.
"Growth in the second quarter was led by Production where revenue increased sequentially by 10%, driven by OneStimSM in North America. Revenue from both Reservoir Characterisation and Drilling increased 5% sequentially due to higher international activity beyond the seasonal rebounds in the Northern Hemisphere. The increase in revenue was driven by higher OneSurfaceSM activity, additional Software Integrated Solutions (SIS) sales, and the start of integrated drilling projects in the Middle East, India, Mexico, and offshore North America. Cameron revenue decreased 1% sequentially on lower OneSubseaTM project volume, although this was partially offset by higher service activity in North America for Surface Systems and higher product sales for Valves & Measurement.
"The market fundamentals continue to evolve favourably for our international business as the global balance of crude oil supply and demand tightens further. Global GDP growth remains strong, with any impact of headwinds from the US-China trade dispute likely to become clearer in the next few quarters. Despite OPEC's recent decision to increase production, the global supply base continues to weaken from geopolitical pressure to remove Iranian production from the market, no apparent resolution to falling production in Venezuela, and Libyan exports continuing to be volatile. In North America, lack of additional pipeline capacity in the Permian Basin is becoming an increasing constraint to production growth. At the same time, spare production capacity, which is essentially limited to only a few OPEC countries, is now nearing its lowest level for more than a decade while decline in the world's mature production base continues to accelerate. These developments underline the growing need for E&P spending to increase significantly, particularly in the international markets, as it is becoming more and more apparent that the new projects expected to come online during the next few years will not be sufficient to meet the increasing demand.
"These views underpin the strong confidence we have in our business outlook. Although the last four years have been marked by the deepest downturn in generations, we have capitalised on a number of market opportunities while simultaneously transforming our company to be even more competitive in the broad-based recovery that is now emerging. The expansion of our portfolio has significantly increased our total addressable market by 50% and we have reached new levels of efficiency in all our activities. We are primed and ready to capture the growth opportunities coming from the positive market fundamentals, and we are excited by the activity and pricing opportunities that the new industry landscape presents."
Other events
During the quarter, Schlumberger repurchased 1.5 million shares of its common stock at an average price of US$68.45 per share, for a total purchase price of US$103 million.
On 18 July 2018, the Company's Board of Directors approved a quarterly cash dividend of US$0.50 per share of outstanding common stock, payable on 12 October 2018 to stockholders of record on 5 September 2018.
Read the article online at: https://www.worldpipelines.com/business-news/20072018/schlumberger-announces-2q18-results/
You might also like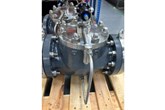 Oxford Flow expands its product range and grows market potential with new high- and low-pressure pilots.