---
The Kinder Morgan Canada Limited board of directors has declared a dividend for 2Q18 of CAN$0.1625 per restricted voting share (CAN$0.65 annualised), payable on 15 August 2018, to restricted voting shareholders of record as of 31 July 2018. KML's restricted voting share dividends are eligible dividends for Canadian income tax purposes.
"KML had a strong second quarter due to its diverse portfolio of fee-based assets and stable cash flows," said KML Board Chairman and CEO Steve Kean. While KML reported second quarter net income of CAN$13.7 million, down from CAN$25.1 million 2Q17, Adjusted EBITDA was CAN$107.8 million, up from CAN$91.5 million in the previous period, and distributable cash flow (DCF) was CAN$91.8 million, up 16% compared to 2Q17. DCF for the quarter benefited from greater contributions from both the Pipelines and Terminals segments vs 2Q17, offset by the payment of preferred share dividends. Net income was impacted by an increase in certain items for the period, driven primarily by the non-cash write-off of capitalised KML credit facility fees. KML's 2017 credit facilities were terminated and replaced with temporary credit facilities due to the pending sale of the Trans Mountain Pipeline System and the Trans Mountain Expansion Project (TMEP) announced on 29 May 2018.
In the second quarter, KML generated earnings per restricted voting share of CAN$0.02, and produced DCF of CAN$0.259 per restricted voting share relative to its declared CAN$0.1625 per restricted voting share dividend, resulting in CAN$10.1 million of excess DCF coverage above the company's dividend.
For the first half of 2018, KML generated net income of CAN$58.1 million, Adjusted EBITDA of CAN$205.8 million, and DCF of CAN$168.8 million. As of the end of the quarter, TMEP spend totalled approximately CAN$1.3 billion on a cumulative basis.
Overview of business segments
The Pipelines and Terminals segments' combined performance for 2Q18, as measured by DCF, was 16% higher than the same period during 2017. Pipelines segment performance was driven by higher capitalised equity financing costs (recognised in other income) due to spending on TMEP, partially offset by higher operating costs. "Demand for our pipelines continues to be strong with our Trans Mountain system once again oversubscribed each month during this past quarter," said Ian Anderson, KML President.
"Earnings in our Terminals segment were up 9% compared to 2Q17 driven by contributions from our Base Line Terminal joint venture, where six of twelve tanks were placed in-service earlier in the year," noted John Schlosser, KML Terminals President.
"Notwithstanding declines in volumes, earnings at the segment's Edmonton-area terminals were up year-over-year owing to higher rates on re-contracted tank leases at our North 40 and Edmonton South terminals, as well as escalations in our predominantly fixed, take-or-pay terminaling contracts," added Schlosser. "Volumes at the Edmonton-area terminals were down 5 million bbls, or 17%, compared to 2Q17, largely attributable to a local refinery turnaround as well as lower rail car loadings at our Edmonton Rail Terminal and Alberta Crude Terminal joint venture rail facilities. Vancouver Wharves earnings were up year-over-year due to operating cost savings, though dry bulk volumes continue to be impacted by rail-related supply chain challenges."
About Kinder Morgan Canada Limited
KML manages and is the holder of a minority interest in a portfolio of strategic energy infrastructure assets across Western Canada. The financial results of the entire suite of assets held by Kinder Morgan Canada Limited Partnership (the Business) have been consolidated into the financial results of KML. KML investors are reminded that Kinder Morgan, Inc. (KMI) holds a majority voting interest in KML and a corresponding majority economic interest in the entirety of the business contributing to financial results discussed in this news release. Therefore, unless the context otherwise requires, references to KML in this news release are references to the Business in which the holders of restricted voting shares of KML collectively have a minority interest. The Trans Mountain Pipeline System, with connections to 20 incoming pipelines and current transportation capacity of approximately 300 000 bpd (based on throughput of 80% light oil and refined products and 20% heavy oil), is the only Canadian crude oil and refined products export pipeline with North American West Coast tidewater access. In Alberta, KML has one of the largest integrated networks of crude tank storage and rail terminals in Western Canada and the largest merchant terminal storage facility in the Edmonton market. KML also operates the largest origination crude by rail loading facility in North America. In British Columbia, KML controls the largest mineral concentrate export/import facility on the west coast of North America through its Vancouver Wharves Terminal. Through its Puget Sound pipeline system, KML ships crude oil to refineries in Washington state and its Cochin Pipeline system transports light condensate originating from the US to Fort Saskatchewan, Alberta.
Read the article online at: https://www.worldpipelines.com/business-news/19072018/kinder-morgan-canada-limited-declares-dividends-and-results-for-2q18/
You might also like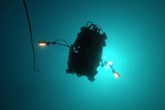 Voyis and Deep Trekker, have joined forces to achieve the successful fusion of Voyis' Discovery Camera with Deep Trekker's REVOLUTION ROV.