---
Reuters reports that several major US energy companies including Plains All American Pipeline, Hess Corp and Kinder Morgan Inc. are among many seeking exemptions from steel import tariffs as the US ratchets up trade tensions with exporters including China, Canada and Mexico.
There have been nearly 21 000 requests overall for exclusions submitted to the US Commerce Department since the Trump administration imposed levies this year. Of those, more than 500 petitions involve pipes and related materials.
Initial decisions are expected this month, offering the first clues as to how the administration will balance an agenda favouring oil and gas exports while also supporting the US steel and aluminium industries.
For the energy industry, the potential for relief has taken on added importance after China surprised markets last week by proposing 25% levies on about US$1 billion a month in US oil imports in retaliation for US tariffs.
The pipeline industry could face higher costs from tariffs as about 77% of the steel used in US pipelines is imported, according to a 2017 study for the pipeline industry.
Plains sought a tariff exclusion for its 500 mile Cactus II oil pipeline, which will connect West Texas oil fields to export docks near Corpus Christi, Texas. "We think tariffs would be unjust, but we can tolerate" them, Greg Armstrong, Chief Executive of Plains All American Pipeline told investors this month, adding that tariffs and import quotas could hurt US production growth.
Read the article online at: https://www.worldpipelines.com/business-news/19062018/us-pipeline-companies-seek-exemption-from-steel-tariffs/
You might also like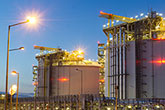 Prices pick up slightly but continue to remain deflated worldwide; prices did not respond as they did in 2022 despite disruption of gas pipeline supplies in Europe by multiple maintenance works.