---
Tallgrass Energy, LP and Silver Creek Midstream, LLC have announced that they have agreed to expand their Powder River Basin (PRB) joint venture. The expanded Joint Venture, Powder River Gateway, LLC, will own the Iron Horse Pipeline, the Powder River Express Pipeline (PRE), and crude oil terminal facilities in Guernsey, Wyoming. Both Iron Horse and PRE will transport crude oil produced in the PRB from Silver Creek's Pronghorn Terminal to Guernsey, Wyoming where the crude oil has access to Tallgrass' Pony Express crude pipeline system and two other existing takeaway pipelines. Tallgrass will operate the JV and own 51% of Powder River Gateway; Silver Creek will own 49%.
Iron Horse, an approximately 80 mile, 16 in. crude oil pipeline currently under construction, will have an initial capacity of approximately 100 000 bpd, is expandable up to 200 000 bpd and is expected to be in-service in 1Q19. PRE is an approximately 70 mile, 12 in. crude oil pipeline, with a current capacity of 90 000 bpd expandable up to 125 000 bpd. The crude oil terminal facilities in Guernsey, Wyoming collectively own over 340 acres, include 370 000 bbls of crude storage currently in-service and, once fully constructed, will include over 1 million bbls of storage. Powder River Gateway has existing interconnections to Pony Express, two other takeaway pipeline connections, and has the ability to access any other current or future markets at Guernsey, Wyoming.
When combining Silver Creek's existing system with its recent acquisition of additional PRB crude oil assets, Silver Creek will own and operate a total of 120 miles of existing pipeline and have more than 330 000 acres dedicated from top Powder River Basin producers. Silver Creek's PRB infrastructure offers rail capability in and out of Silver Creek's Pronghorn Terminal located in Converse County, batching capabilities throughout the system for at least three specs of crude, and trucking capabilities through a transportation fleet to meet interim service needs as gathering pipelines are constructed. Furthermore, Silver Creek will commence construction in 4Q18 to further develop the existing gathering and trunkline infrastructure by an initial 52 miles of crude pipelines and 100 000+ bbls of additional storage.
Tallgrass, which owns and operates Pony Express and is developing both the Seahorse Pipeline and Plaquemines Liquids Terminal (PLT) projects, provides extensive downstream market access for PRB producers. Powder River Gateway intends to create joint tariffs with both Pony Express and Seahorse, providing Iron Horse and PRE shippers seamless transportation from Silver Creek's Pronghorn Terminal to Cushing, Oklahoma, St. James, Louisiana, export markets through PLT, and more than 3 million bpd of refining demand directly connected to Pony Express or Seahorse. Additionally, Tallgrass is pursuing multiple expansion projects on Pony Express to meet the needs of growing PRB production. These expansion projects will be staged over the next few years, with the initial pump upgrades coming online in 2018. Pony Express intends to launch an open season for additional expansion capacity out of Powder River Gateway's Guernsey facility, in November 2018.
"We look forward to expanding our partnership with Silver Creek as they continue to extend their footprint in the PRB," said Tallgrass Chief Operating Officer Bill Moler. "Our combined Powder River pipeline system will offer superior transportation service and increased expansion flexibility, allowing Powder River Gateway to continue offering the most competitive rates and services in the PRB as production continues to increase."
"Silver Creek is pleased to expand our relationship with Tallgrass in the PRB," said J. Patrick Barley, Founder and Chief Executive Officer of Silver Creek. "Their current and growing long-haul crude transportation capabilities combined with Silver Creek's gathering and transportation assets in the PRB position Powder River Gateway to be the most efficient and flexible transportation and terminal facility in the PRB, offering access to all Guernsey downstream markets."
Read the article online at: https://www.worldpipelines.com/business-news/16102018/tallgrass-energy-and-silver-creek-midstream-agree-to-expand-joint-venture/
You might also like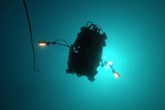 Voyis and Deep Trekker, have joined forces to achieve the successful fusion of Voyis' Discovery Camera with Deep Trekker's REVOLUTION ROV.