---
Crusoe Energy Systems, Inc., a technology-driven flare mitigation provider, is now operating five Digital Flare Mitigation (DFM) systems in North Dakota, Wyoming and Colorado, and has agreed to provide up to ten additional systems for deployments in Montana, Wyoming and North Dakota by the end of 2019. Across its existing projects, Crusoe has already eliminated more than 25 million ft3 of natural gas flaring, significantly reducing air emissions for local communities as well as regulatory challenges faced by oil and gas companies.
Crusoe marries technology-empowered solutions with one of the booming oil industry's greatest environmental challenges. Crusoe uses gas that would have otherwise been burned in the air as a 'flare', and instead powers modular, mobile data centres designed specifically for the oilfield. In addition to reducing waste, this solution can also help both oil companies and pipeline operators to significantly reduce emissions.
Key points
Crusoe's operational milestones demonstrate a cost-effective solution for remote natural gas flare mitigation at the wellhead with reliability and scale:
Scalable. Crusoe's flare mitigation technology is scalable from tens of thousands of ft3/d up to millions of ft3/d, meeting the challenges of today's remote oilfield operations. Crusoe produces a range of DFM modules beginning with systems sized for 70 000 ft3/d and scaling to systems designed for 300 000 ft3/d and deployable in series up to millions of ft3/d.
Proven. Crusoe's DFM modules have now run with high reliability across three states through an extremely harsh 'bomb cyclone' winter as well as summer of record-setting heat waves.
Fast and flexible. DFM service is quickly deployable anywhere in North America including major shale oil centres such as the Permian Basin, Bakken, Denver Julesburg Basin, Powder River Basin and Uinta Basin.
Environmental benefits. Crusoe's DFM systems generate significant environmental and air quality benefits including up to 99% reduction of NOx, CO, volatile organic compounds (VOCs) and methane.
Well-funded. Crusoe is funded by institutional investors including Bain Capital Ventures, Founders Fund and Winklevoss Capital.
Quality team. Crusoe's team combines oil and gas operations veterans with decades of experience in the oil patch alongside top tier technology developers who are building the future of distributed cloud computing.
Cully Cavness, President of Crusoe said: "The Crusoe team is passionate about our mission to provide a reliable and scalable solution to routine flaring throughout North America. We are proud of the operational and environmental benefits achieved for our upstream clients as well as local communities, and we are committed to supporting our oil and gas clients in the shared goal of more efficient and clean energy production. The Crusoe team is growing quickly, and together we are focused on scaling this business because each Crusoe project in the field translates into a significant reduction of resource waste and emissions. That is a very motivating mission for our team."
Terry Eichinger, VP of US Operations and Engineering at Enerplus Corporation said: "At Enerplus, we promote creative and innovative thinking, and leverage technology to drive value. Crusoe's work is a good fit for our approach. We worked with them to identify a location without gas pipeline service that would potentially benefit from their digital flare mitigation technology. Following a two-well pilot project, Crusoe's system has increased our ability to capture gas by approximately 400 000 ft3/d."
Scott Nolan, Partner at Founders Fund said: "Crusoe's digital flare mitigation solution has quickly proven itself as a scalable, reliable, environmental and cost-effective solution. By marrying the power demand of today's digital computing platforms with the gas glut faced by America's shale producers, Crusoe creates the type of win-win that we've seen change industries before. We're excited to be backing the Crusoe team as they expand their digital flare mitigation services across the oil and gas industry."
About Crusoe Energy Systems Inc.
Crusoe Energy Systems provides innovative solutions for the energy industry. By converting natural gas to energy-intensive computing, Crusoe's Digital Flare Mitigation service delivers an environmentally sound way to create a beneficial use for otherwise wasted natural gas. Crusoe offers solutions to solve the gas flaring challenge for oil producers without upfront cost or operational complexity. Crusoe currently has flare mitigation projects operating in Wyoming's Powder River Basin oilfield, Colorado's Denver-Julesburg oilfield and North Dakota's Bakken oilfield. Systems are scalable up to millions of ft3/d and can be deployed anywhere in the US or Canada.
Read the article online at: https://www.worldpipelines.com/business-news/16082019/crusoe-energy-systems-reduces-flaring-of-natural-gas/
You might also like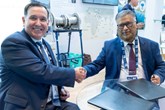 The partnership is to bring critical flange isolation offerings for the Kingdom of Saudi Arabia.