---
Kinder Morgan Canada Limited is pleased to announce that it has completed its previously announced offering of cumulative redeemable minimum rate reset preferred shares, Series 1 (Series 1 Preferred Shares). The company issued 12 000 000 Series 1 Preferred Shares for aggregate gross proceeds of CAN$300 million through a syndicate of underwriters led by Scotiabank, CIBC Capital Markets, RBC Capital Markets and TD Securities. The transaction was upsized from a base size of 8 000 000 shares as a result of strong investor demand.
"This robust inaugural preferred offering is another testament to the attractiveness of KML's integrated suite of assets," said Dax Sanders, the company's Chief Financial Officer. "The transaction also represents another important step in financing the Trans Mountain pipeline expansion project."
The company intends to use the proceeds from the offering to indirectly subscribe for preferred units in Kinder Morgan Canada Limited Partnership, which in turn, intends to use such proceeds to, directly or indirectly, finance the development, construction and completion of the Trans Mountain Expansion project and Base Line Terminal project as well as in connection with other potential future growth opportunities, to repay indebtedness and for general corporate purposes.
The Series 1 Preferred Shares will begin trading on the TSX under the symbol KML.PR.A. S&P and DBRS have assigned this series a rating of P-3 (high) and Pfd-3 (high), respectively. The outstanding principal amount of the series is expected to receive 50% equity treatment from S&P and 100% equity treatment from DBRS.
Dividends on the Series 1 Preferred Shares are expected to be CAN$1.3125 per share annually, payable quarterly on the 15 February, May, August and November, as and when declared by the Board of Directors of the company, for the initial fixed rate period to but excluding 15 November 2022. The first dividend, if declared, will be payable 15 November 2017, in the amount of CAN$0.3308 per share.
All of the company's dividends are designated 'eligible dividends' for Canadian income tax purposes.
The securities referred to herein have not been and will not be registered under the United States Securities Act of 1933, as amended, or any state securities laws, and may not be offered or sold in the United States absent registration or an applicable exemption from registration requirements.
Read the article online at: https://www.worldpipelines.com/business-news/16082017/kinder-morgan-canada-completes-preferred-share-offering/
You might also like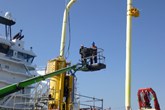 AIS awarded another custom coating project offshore Brazil.