20% drop in Russia sentiment among Asia-Pacific companies during 1Q22
Published by Sara Simper, Editorial Assistant
World Pipelines,
---
With several Western peers halting Russian operations, there is a rising uncertainty around Asia-Pacific (APAC) companies' stand on a Russian exit. As a result, the earnings call transcript sentiments of APAC-based companies were down by 20% in 1Q22 over 4Q21, reveals GlobalData, a leading data and analytics company.
Rinaldo Pereira, Business Fundamentals Analyst at GlobalData, comments: "1Q22 sentiments have not reached the COVID-19 driven lows of 3Q20. The APAC companies seem sceptical of exiting Russian operations with their sentiments around Russia have been impacted by the Ukraine conflict and reached the medium range."
'Sanctions' as a keyword only appeared 14 times in APAC earnings call transcripts so far in 2022. In comparison, North American companies mentioned the word nearly 190 times, reveals GlobalData's Filing Analytics database.
Japan Tobacco Inc., Food Empire Holdings Ltd, Oil and Natural Gas Corp. Ltd, Glenmark Pharmaceuticals Ltd, IRC Ltd were some of the APAC companies with the most mentions of Russia in all filings during 2016 - 2022.
Pereira concludes: "Most mentions do not necessarily mean the most exposure but indicate company discussions around the possibility of geopolitical risk on the production and sales or an indirect impact on their business. APAC corporates do recognise the gravity of the crisis but are more cautious in their approach around discussions while several Western counterparts directly comment on suspending or halting operations."
Read the article online at: https://www.worldpipelines.com/business-news/16032022/20-drop-in-russia-sentiment-among-asia-pacific-companies-during-q122/
You might also like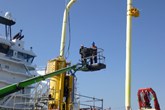 AIS awarded another custom coating project offshore Brazil.