---
Pipeline Research Council International (PRCI) is pleased to announce the appointment of Mr. Gary Hines, PE, CAE, as the new Vice President of Operations. Gary will be responsible for further enhancing research execution, delivery and knowledge transfer. He will begin his new role with PRCI on 17 August 2018.
Mr. Gary Hines, PE, CAEGary joins PRCI with over 23 years of experience in both the energy association and natural gas pipeline industries. He spent the last 7 years at Southern Gas Association (SGA) as the Vice President of Learning and Professional Development. Prior to SGA, Gary spent 9 years with Southern Star Central Gas Pipeline and 8 years with Williams.
Gary received a BS in Civil Engineering from Missouri University of Science and Technology and an MBA from Colorado State University.
The appointment of Gary Hines as Vice President of Operations created an opportunity to reorganise certain responsibilities within PRCI. With that, PRCI is pleased to announce the promotion of Mr. Gary Choquette to Director of Research Execution. Gary will be responsible for optimising PRCI contractor resources in an effort to facilitate the timely execution of PRCI research. Gary will continue in his role as Program Manager for the Measurement and Compressor & Pump Station Technical Committees.
"Gary Choquette taking on greater responsibility regarding research execution will allow Gary Hines to focus on further developing the technology and knowledge transfer of the research portfolio, with a concentration on usability and application of research results," said PRCI President Cliff Johnson. "I am very excited about Gary Hines joining PRCI. I believe PRCI members will see improved project turnaround and research application with the appointment of these new roles."
Pipeline Research Council International
PRCI is a non-profit research organisation that is comprised of energy pipeline operating companies located in the US, Canada, Europe, Asia, South America, and Australia. Augmenting the pipeline membership are associate members drawn from companies in the US, Canada, Europe, China, Japan, and Australia that serve the industry as pipe and equipment manufacturers, service providers, and vendors.
Read the article online at: https://www.worldpipelines.com/business-news/14082018/pipeline-research-council-international-appoints-new-vp-of-operations/
You might also like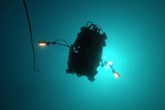 Voyis and Deep Trekker, have joined forces to achieve the successful fusion of Voyis' Discovery Camera with Deep Trekker's REVOLUTION ROV.