---
On Thursday 9 June, an online briefing was hosted by DTEK CEO, Maxim Timchenko. Ukraine's energy security was the topic of the weekly online briefing. Please see below the key messages.
Update on DTEK operation and restoration of electricity supply amid of Russian invasion:
DTEK resumed its work in Kyiv. Now the employees of the central offices of all DTEK businesses, as well as DTEK Academy, are operating in one location in Kyiv.
DTEK's return to Kyiv is a symbol of the company's faith in the country, in its victory and in its successful future. This is also a positive signal to the international partners with whom the company actively cooperates.
Since the beginning of the war, 40 DTEK employees have been killed, 87 wounded and 3 went missing.
Since 24 February, DTEK's emergency crews have restored power supply to more than 2.2 million Ukrainian homes.
Fighting continues and energy infrastructure is being damaged by shelling on a daily basis. More than 1.5 million residents in 745 settlements are deprived of electricity supply.
Since the beginning of the war, DTEK has provided critical infrastructure companies with 137 million UAH worth of electricity free of charge. These are medical facilities, military facilities and law enforcement agencies.
Opening of the electricity trade with Ukraine
On 7 June, Continental Europe TSOs decided to respond positively to Ukrenergo's request and confirmed the key conditions that, once met, will enable a gradual opening of the electricity trade with Ukraine. The full implementation of these technical conditions is necessary to guarantee the security and stability of the extended power system.
Exports start with a capacity of 100 MW, which will be gradually increased if the dynamic stability of the European energy system is maintained (maintaining the required frequency of 50 Hz).
The current export capacity of the Ukraine's energy system will be close to what it was 'before' synchronisation – about 1 GW.
Further grid integration with ENTSO-E can provide additional 7.7 GW of electricity capacity for EU.
Overall macroeconomic effect of the synchronisation is positive for both: for Ukraine and the EU.
Ukrainian RES and NPPs are able to provide for lacking clean energy sources in the EU in the process of energy transition and decarbonisation.
Energy security statements:
Ukraine is not only fighting for its freedom but also for the Europe's security: By now, the whole world has realised how important Ukraine is for global food security, Ukraine is an relevant player in the global supply chain, Ukraine is an essential element of Europe's energy security.
For more than 100 days, Ukrainians have proven that we are vital not only on the battlefield but also to ensure stable work on the energy front. Moreover, we can even offer to export electricity and thus strengthen the EU's energy security.
Today, we can see fantastic unity in Ukraine. All actors work closely together and contribute to mutual efforts to defend our freedom. In the process of preparing for the next winter heat session, DTEK will continue to do the same.
Today, as a coal producer DTEK is currently doing everything in its power to keep the heat and lights on in Ukrainian homes, and will continue doing so. On the other hand, Ukraine needs new sources of financial stability, thus, the export of electricity to and financial support from our Western partners will be playing a crucial role.
DTEK's humanitarian aid:
DTEK and other SCM companies provide the most significant humanitarian aid and contribute greatly to the restoration of liberated territories of Ukraine.
Since the beginning of the war, DTEK has provided electricity supply to critical infrastructure institutions for free, in particular state and municipal medical institutions, military and law enforcement agencies, and bread producers. So far, they have used nearly 23.4 million kWh, worth around UAH 137 million (≈ US$4 million), in the Kyiv, Dnipropetrovsk and Donetsk regions.
Since the start of the Russian invasion of Ukraine, the DTEK Group has allocated UAH 516 million (≈ US$17 million) in humanitarian aid and support to the Armed Forces and the Territorial Defense Forces. The funds have been allocated for food kits and essential medicines for military personnel and internally displaced persons.
The SCM Group businesses, which include DTEK, and the Rinat Akhmetov Foundation, have donated almost UAH 2.1 billion (≈ US$72 million) for humanitarian aid to civilians, including food, medicine, necessities, evacuation, shelters and so on, and support for the Armed Forces and the Territorial Defense Forces in dozens of cities. This includes providing clothing, PPE and first aid kits. SCM have provided US$30 million in taxes in advance.
Read the article online at: https://www.worldpipelines.com/business-news/14062022/dtek-weekly-briefing-10-june-2022/
You might also like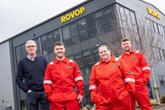 ROVOP focused on producing the 'next generation' of ROV pilots, adds three new trainees to its training programme.