Gassco suggests basis for increasing gas transport from the Barents Sea
Published by Aimee Knight, Editorial Assistant
World Pipelines,
---
Gassco's report on transporting more gas from Barents Sea South shows that expanding today's capacity can lay the basis for further value creation from Norway's petroleum resources. Gas from existing fields and discoveries could give added value if increased transport and processing capacity can be successfully established for this part of the Norwegian continental shelf.
A number of alternatives have been assessed, including enhanced capacity for the Melkøya gas liquefaction facility and exports by liquefied natural gas (LNG) carrier or pipeline.
"Substantial value from a socioeconomic perspective could be created by developing these gas resources," says Frode Leversund, CEO of Gassco.
"Establishing new gas infrastructure in the Barents Sea would require cooperation across production licences, and it's therefore important to maintain the extensive collaboration between the players in these waters."
"The analyses in our report provide a detailed and updated factual basis for further work in this region."
Unlike earlier studies, these analyses show that several gas transport options could prove profitable with proven resources alone. Including undiscovered resources would also make larger solutions economic.
An important contribution to profitability is that natural gas transport solutions established as a consequence of oil production would facilitate optimum reservoir development and help to ensure a high and rapid socioeconomic return.
The report has been drawn up in collaboration with a large number of industrial players as well as the Norwegian Petroleum Directorate (NPD).
"Increasing transport capacity is important for realising the value of the gas already discovered," says NPD director general Ingrid Sølvberg. "New infrastructure could also contribute to a stronger drive for further exploration in the Barents Sea South area."
"This report will be used as a basis for maturing projects to expand gas transport capacity from the Barents Sea," observes Leversund.
"Together with the commercial players, we'll now take this work forward."
Read the article online at: https://www.worldpipelines.com/business-news/14012020/gassco-suggests-basis-for-increasing-gas-transport-from-the-barents-sea/
You might also like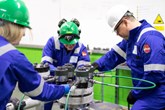 3t EnerMech named regional winner at top engineering awards for the second year in a row.