---
Colonial Pipeline began to slowly restart the nation's largest fuel pipeline network on Wednesday after a ransomware attack shut the line, triggering fuel shortages and panic buying in the southeastern US, according to Reuters.
Reuters reports that it will take several days for the 5500 mile (8850 km) pipeline to return to normal operations, Colonial said, even as motorists in southeastern states jammed stations seeking fuel. A return to ample supplies could take two weeks, analysts said.
The cyberattack halted 2.5 million bpd of shipments of gasoline, diesel and jet fuel last Friday after the most disruptive cyberattack ever on US energy infrastructure.
Sources familiar with Colonial's response said the company does not plan to pay the ransom demanded by hackers who encrypted data on the pipeline. Colonial said it was working with cybersecurity experts to investigate the attack and had taken additional security measures before beginning the restart. The company said its control centre is handling the restart of the pipeline, which stretches from refineries on the US Gulf Coast to consumers in Mid-Atlantic and Southeast states.
The supply crunch sparked panic buying in the US Southeast, bringing long lines and high prices at gas stations ahead of the peak summer driving season.
Fuel stocks in the US Northeast will likely hit five year lows this week as the restart slowly progresses, said S&P Global Platts analyst Richard Joswick. Full recovery "will take a couple of weeks at least," he added.
Privately owned Colonial Pipeline opened portions of the line manually in Georgia, Maryland, New Jersey and the Carolinas. It also accepted 2 million bbls of fuel to begin efforts to "substantially" restore operations by week's end, the company has said.
The average national gasoline price rose to above US$3/gal., the highest since October 2014, the American Automobile Association said.
The FBI has accused a criminal gang called DarkSide of the ransomware attack. The group, believed to be based in Russia or Eastern Europe, has not directly taken credit, but on Wednesday it claimed to have breached systems at three other companies, including an Illinois tech firm.
Russia's embassy in the United States rejected speculation that Moscow was behind the attack. On Monday, Biden said there was no evidence so far that Russia was responsible.
It was not known how much money the hackers are seeking.
Gulf Coast refiners that move fuel to market on the Colonial Pipeline have cut processing. Total SE trimmed gasoline production at its Port Arthur, Texas, refinery, and Citgo Petroleum pared back at its Lake Charles, Louisiana, plant.
Citgo said it was moving products from Lake Charles and "exploring alternate supply methods into other impacted markets." Marathon Petroleum said it was "making adjustments."
Several airlines have been transporting fuel by truck or fuelling planes at destinations rather than at East Coast origins.
Read the latest issue of World Pipelines magazine for pipeline news, project stories, industry insight and technical articles.
World Pipelines' May 2021 issue
The May issue of World Pipelines includes a regional report on Canada's oil and gas sector, as well as technical articles on integrity management software, leak detection, NDT, and project case studies. Don't miss our feature on young pipeliners, in which World Pipelines' Senior Editor Elizabeth Corner interviews the winners of the John Tiratsoo Award for Young Achievement, awarded by Young Pipeliners International, in partnership with PPIM.
Read the article online at: https://www.worldpipelines.com/business-news/13052021/colonial-pipeline-restarts-operations-following-cyberattack/
You might also like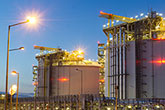 Prices pick up slightly but continue to remain deflated worldwide; prices did not respond as they did in 2022 despite disruption of gas pipeline supplies in Europe by multiple maintenance works.