---
A statement from Wintershall Dea's CEO, Mario Mehren.
The Russian war of aggression against Ukraine is a fundamental turning point for the world and for our company. Wintershall Dea has been active in Russia for over 30 years. But there are red lines even in long-standing economic partnerships. Russia has crossed a red line with this war of aggression. Within days, we reacted by announcing the impairment of Nord Stream 2 financing, and we stopped payments into Russia. We said a clear 'no' to new projects in Russia, and to new projects with Russian partners outside Russia. After intensive discussion, we decided to maintain our participation in existing projects in Russia. The reason: in the event of a withdrawal, billions in assets would fall to the Russian state.
In light of the Russian war of aggression, policymakers, society and industry will have to make uncomfortable decisions and compromises. Germany and Europe need a secure, affordable energy supply. This need will remain.
This terrible war brings a lot of uncertainty for the energy sector. But two strategic themes for our company are clear: portfolio strengthening and energy transition.
We will strengthen our portfolio to diversify European energy supply sources, and to improve the resilience of our business even further. We are looking at all options for additional gas volumes and additional energy supply – especially in Norway and around the globe.
We are also tackling the challenge of climate change: our company has long planned to evolve by investing in carbon management and hydrogen solutions. We are working towards a carbon management and hydrogen business that can abate up to 20 - 30 million t of CO2/yr by 2040. That is significant; it puts us on a path towards a business that actively supports the European 2050 net-zero goal.
Read the article online at: https://www.worldpipelines.com/business-news/12052022/wintershall-dea-oil-and-gas-statement/
You might also like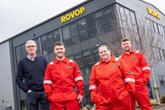 ROVOP focused on producing the 'next generation' of ROV pilots, adds three new trainees to its training programme.