---
Enbridge took immediate action after learning of the damage to ATC's cables in the Straits of Mackinac, an incident which is under investigation by the US Coast Guard.
Following a series of inspections of Line 5 in recent days, Enbridge have confirmed dents to both the east and west segments of Line 5. There are two dents in the west pipeline and one in the east pipeline.
A review of all leak detection systems and available data indicates that the structural integrity of the pipelines has not been compromised.
Enbridge is working closely with the State, the Coast Guard and PHMSA to provide updates on their inspections and plans moving forward.
Immediate action is being taken to assess appropriate, reinforcing repairs.
Going forward, as part of Enbridge's agreement with the State of Michigan they are exploring new technologies and other means that will help ensure the safety of Line 5.
Read the article online at: https://www.worldpipelines.com/business-news/12042018/line-5-oil-pipeline-in-the-straits-of-mackinac-has-been-damaged/
You might also like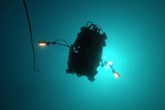 Voyis and Deep Trekker, have joined forces to achieve the successful fusion of Voyis' Discovery Camera with Deep Trekker's REVOLUTION ROV.