---
Shell Midstream Partners, L.P. entered into a purchase and sale agreement to acquire Shell's ownership interest in Amberjack Pipeline Company LLC, which is comprised of 75% of Amberjack Series A and 50% of Amberjack Series B for US$1.22 billion.
"I'm pleased to announce our largest acquisition to date. This is a significant milestone for Shell Midstream Partners," said Kevin Nichols, Chief Executive Officer. "The Amberjack pipeline is strategically located to capture value in a prolific area in the Gulf of Mexico and represents another key corridor that is set to benefit from organic growth."
"This acquisition, combined with our equity raise earlier in the year, further demonstrates our ability to deliver against our promises and positions us well for the future."
Shell Midstream Partners' share of Amberjack's annualised net income estimated using the 2Q18 forecast is nearly US$120 million with the second quarter dividend estimated to be about US$34 million. Following the completion of anticipated growth projects, the company's share of Amberjack's net income is expected to increase to an annual run rate of approximately US$145 million by the end of 2018 with an associated quarterly dividend of approximately US$40 million. Shell Midstream Partners plans to fund this acquisition with borrowings under existing credit facilities. The acquisition is expected to close on or around 11 May 2018, subject to customary closing conditions.
The key benefits of Amberjack can be categorised into three value drivers:
Sustained growth: The pipeline currently transports roughly 300 000 bpd due to the success of Jack St. Malo and Tahiti. The pipeline is forecasted to transport approximately 400 000 bpd by the end of 2019 from continued in-field development, as well as new projects expected to come online.
Connectivity: The pipeline has exceptional connectivity in the Gulf of Mexico with delivery options along the Texas and Louisiana Gulf Coast.
Market optionality: Shippers on Amberjack can deliver into multiple pipelines allowing for the transportation of four different crude grades. This optionality is a significant value driver for shippers as they can leverage arbitrage opportunities between crude grades and delivery locations.
The terms of the acquisition were approved by the conflicts committee of the Board of Directors of the General Partner of Shell Midstream Partners, which is composed entirely of independent directors. This committee was advised by Tudor Pickering Holt & Co. Advisors LP as to financial matters and Akin Gump Strauss Hauer & Feld LLP as to legal matters.
Read the article online at: https://www.worldpipelines.com/business-news/11052018/shell-midstream-partners-to-buy-amberjack-pipeline-stake-from-shell/
You might also like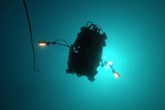 Voyis and Deep Trekker, have joined forces to achieve the successful fusion of Voyis' Discovery Camera with Deep Trekker's REVOLUTION ROV.